Editor's Note: This article was first published March 17, 2008, on LymeLine.com.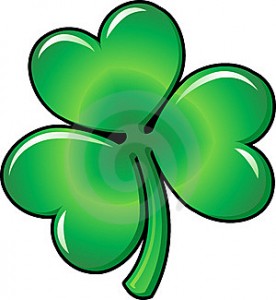 I was a New Yorker for 30 years and, although I love living in a quiet Connecticut town today, there are still aspects of city life that I miss.  There are the small things like being able to walk everywhere – to the supermarket, to the dry cleaner, to the movies.  And then there are the big things…
One of those is a grand old New York tradition – the celebration of Saint Patrick's Day.  I'll bet there are not many ex-New Yorkers (and there are a number of us in the area) who don't get a little farklempt when calling to mind March 17ths spent in the city.  After all, is there any better place to toast the Emerald Isle than on the island of Manhattan?
In the lyrics of the Irish-American showman, George M. Cohan, "every heart beats true for the red, white, and blue."  But in New York, on Saint Paddy's Day, the city goes all out for the wearing of the green, starting with the green stripe painted on Fifth Avenue.
As nice as it is to wake up in a New England village on March 17, it could just as easily be February 17 or April 17.  In New York, as soon as you walk out the door on St. Patrick's Day, there is absolutely no mistaking which day of the year it is.
There's always electricity in the city air, but on March 17, there is a festival mood along Manhattan's avenues and streets.  There are vendors selling green and white carnations, businessmen on their way to work sporting green ties, and teenagers with shamrocks painted on their cheeks or with shocks of hair dyed green for the day.  In short, it's easy being green.
And the great thing about New York is that whether you're full-blooded Irish, a little bit Irish, or nowhere near being Irish … it makes absolutely no difference.
Everyone loves a parade.  And as you get close to Fifth Avenue, you see families on their way to the parade and you start seeing parade participants.Oh, those kilts and tartans and tam-o'-shanters!
It might be a long way to Tipperary but on the streets of New York, I learned the names of many of Ireland's counties.  These names are emblazoned on banners carried at the head of each county society.  Counties Cork, Clare, and Kilkenny were already familiar to me.  But I soon discovered that there are other counties with the names like Armagh, Donegal, Mayo, and Sligo.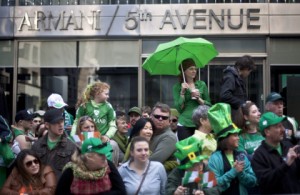 Unlike New York's other great processional, the Macy's Thanksgiving Day Parade, there are no floats and balloons, no vehicles or commercial aspects to the Saint Patrick's Day Parade.  It is truly a "people parade" with about 150,000 participants marching up Fifth Avenue.
The parade steps off at 11 a.m. from Fifth Avenue and 44th Street and, generally, the last of the groups pass by Rockefeller Center and Saint Patrick's Cathedral around 5 p.m.  The marchers include military units, top high school bands, drum and bugle corps, members of Eire-based societies, New York's finest and New York's bravest … and, of course, any politician who is running for office in the tri-state area.
A fun thing to do is to walk along the side streets off Fifth Avenue where the various groups are whiling away time as they wait their turns to fall into the parade route.  Many of them are practicing and drilling and it's like attending a giant muster on the city sidewalks.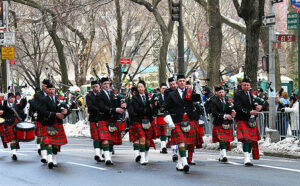 And, when those units step out on Fifth Avenue and begin the march uptown, there is nothing like the sound that they make.  The skirling of the bagpipes and the percussion of the drums echoing off the buildings thrills and stirs the soul.  Spectators give appreciative cheers as a band plays a rousing version of "McNamara's Band" or break into spontaneous song when they hear "When Irish Eyes Are Smiling."
There were years when I spent hours at the parade and other years when I could only spend a few minutes, but it was always a special time.
If many New Yorkers are tucking into dinners of corned beef and cabbage or lamb stew on Saint Patrick's night, I'll always associate the holiday with another Irish specialty.  In my early years in the city, a woman I worked with always brought Irish soda bread to the office on Saint Paddy's Day.
Kay was from an Irish family in Brooklyn and when she served the bread, she always put out a crock of butter with it.  I can still remember my first taste of that bread.  And today, even though I bake a mean loaf of Irish soda bread myself, nothing can ever quite compare with Kay's.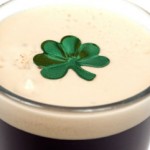 The Irish pubs and saloons in the city are, of course, packed to the gills on the holiday.  And that is another great thing about New York – each neighborhood has its own Irish watering hole.  On my block of East 34th Street, the pub was Brew's and it was where we ate at least twice a week.  It was the kind of place where you didn't have to order your drinks because the wait staff already knew what you drank and automatically brought a round to the table when you came in the door.  Richie Brew, the pub's owner, was warm-hearted and gregarious and called most of his customers by their first names.
We spent many memorable Saint Patrick's nights at Brew's.  One time, as we were arriving, a contingent of bagpipers, who had marched in the parade, were getting into formation and tuning up on the sidewalk.  Then, kilts swirling and bagpipes wailing, they marched themselves into Brew's to the cheers of all the patrons.
The coda to the day's festivities was watching "The Quiet Man" on TV.  One of the local New York stations (Channel 9 or 11) always screened this movie on Saint Patrick's night.  (It was akin to airing "It's a Wonderful Life" at Christmas.)
The movie, which stars John Wayne, Maureen O'Hara and Barry Fitzgerald, is a valentine to Ireland.  With its stunning scenery and depiction of life in the village of Inisfree, the movie always had me longing to jump on the next Aer Lingus flight back to the old countryThis Saint Patrick's Day, I won't be in New York.But I'll still bake Irish soda bread and put on a CD of "The Irish Tenors."  I'll listen to songs about sweet Molly Malone, Dublin in the rare old times, and the last rose of summer.
And I'll drink a toast to the green isle of Erin … and to the great island of Manhattan.