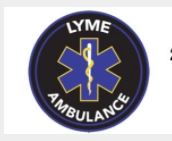 OLD LYME — On Thursday, March 23, the Lyme-Old Lyme Lions Club will hold their monthly meeting and program at Memorial Town Hall, 52 Lyme St, in Old Lyme.
A social will be held at 6:30 p.m., followed by the program at 7 p.m. A business meeting for members will take place at the conclusion of the program.
The March program will be presented by members of the Lyme Ambulance Association and is titled "Community Education: Recognizing the signs of medical distress, knowing when to call 911, and what to do in those often-critical minutes before the ambulance arrives."
Lyme Ambulance Association is a private, volunteer emergency medical service, which serves the Lyme community, working closely with its Old Lyme neighbors, not solely for emergency response and Ambulance transport but also to offer pre-hospital education.
At the conclusion of the program, the ambulance personnel will answer questions from the audience.
The program is free and open to the public, and no registration is needed.
Contact Karen Geisler at lymeoldlymelions@gmail.com for more information, or call (860) 434-5321.
For more information on the Lyme Ambulance Association, visit LymeAmbulance.org or call Ariana Eaton at 860.434.7225