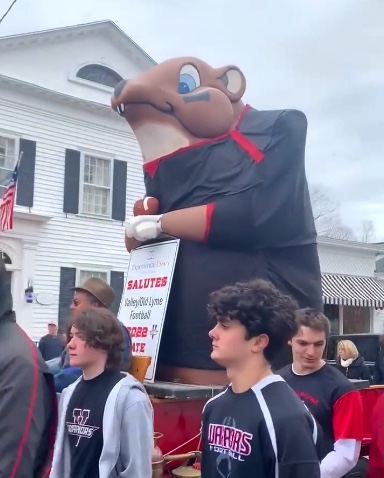 ESSEX, CT — The Essex Ed Parade was held last Sunday. Pots and pans, spoons, whistles and trumpets 'played' by parade-goers, many in festive groundhog gear, celebrated the larger-than-life-groundhog making his annual pilgrimage from Essex Boatworks on Ferry Street and up Main Street.
As always, Ed's costume was a secret until his parade appearance. Each year a community organization dresses him in a costume that acknowledges a person, group or special occasion. That costume and organization will be revealed on the parade route to Ed's final place of honor, at the roundabout on the top of Main Street. 
It turned out that this year Ed was honoring the Valley Regional/Lyme-Old Lyme Football Team, which reached the 2022 CIAC Class S State Final.
In 1978, Essex Ed was created out of boredom by local resident Mary Ellen Brophy and friends who wanted to interject some fun into what was an extremely cold and unpleasant winter. Without securing town approval, Brophy referred to Essex Ed's surprise appearance at the Essex Square roundabout on Groundhog Day as "creative vandalism – a way to get everybody outside for some silly, winter fun."
Over the years, Ed has sported a wide range of disguises, ranging from an Olympic skier, complete with a gold medal touting "Gopher the Gold", to Superhog, with a cape and Superwoman-style uniform. He/she's been the Captain of the Titanic, Princess Leia, a football player, firefighter, fisherman, soldier, Beethoven, preppie, librarian, and even Elvis!

The local celebrity groundhog is featured in a new children's book, Essex Ed's Groundhog Day Parade (ISBN: 9798840622902), written by Essex resident Susan Cornell. This independently-published book is illustrated by award-winning artist Mina Hamanoto Mohtasham, an instructor at the Lyme Academy of Fine Arts in Old Lyme and Essex resident.