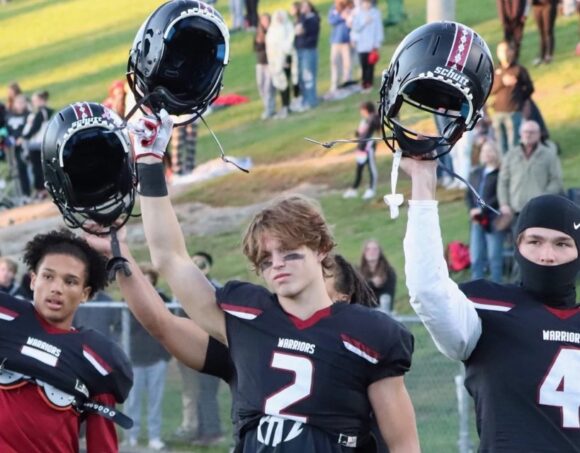 DEEP RIVER — Sixth-seeded Valley/Old Lyme emerged victorious in a thrilling 26-14 victory over No. 7 seeds Gilbert-Northwestern-Housatonic (GNH) Sunday afternoon in a CIAC Class SS semifinal. The game, played at the Valley Regional High School (VRHS) field, drew a huge crowd of vocal supporters.
Senior Nick Cox, who made some key plays for the Warriors in Sunday's game, told LymeLine.exclusively by text after the game that he felt, "Amazing after the win." He added that he was also, "Very proud of our team." Cox now attends VRHS but previously was a student at Lyme-Old Lyme High School.
Asked why he thought the Warriors had been able to pull off the win, Cox responded that he felt the team was successful primarily, "Because we were well prepared."
Looking ahead to Saturday's final, Cox commented, "I'm hoping we'll be just as prepared [as we were for the semifinal]" but, recognizing all the challenges that accompany a state final, he added realistically, "We know it'll be the toughest test all year."

Joel Barlow High School, seeded fifth, defeated top-seeded Cromwell 40-35 in the other semifinal and will face Valley/Old Lyme in the final on Saturday, Dec. 10, at a place and time to be determined.
Visit this link to read a full report of the game by Ned Griffin published Dec. 4, on The Day.com.