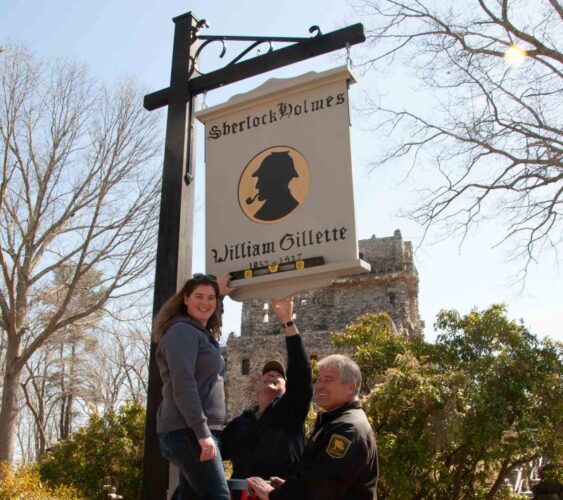 EAST HADDAM, Conn. – Several years of planning by supporters of Gillette Castle State Park — in combination with a young woman's talents — have restored a much-missed piece of park nostalgia.
It is a tall wooden post sporting a large sign paying homage to actor William Gillette, who is shown in silhouette in a deerstalker cap, the emblem of his most famous theatrical role — Sherlock Holmes. Beneath Gillette's name are the years of his lifetime, 1853-1937. 
The sign was installed recently near Gillette's century-old fieldstone mansion by a team of volunteers overseen by park supervisor John "Jack" Hine and Friends of Gillette Castle State Park Board Member George Mattern of Baltic, Conn. 
The sign replaces one that stood for many years along the path leading visitors to Gillette's home, and had been a favored spot for photographers. However, that sign fell victim to structural decay and accident, even collapsing at one point.
"The sign's removal several years ago left a void that's now filled because of the generous help of talented volunteers," said Lynn Wilkinson, president of the Friends of Gillette Castle State Park. "The process took time, because it was clear that long-term structural integrity and ease of repair were absolutely crucial."
An initial effort to replace the sign about seven years ago prompted instructors at Lyme-Old Lyme High School to work with shop students on the project. One of those students was Lauren Schillawski, then an 11th-grade student of advanced woodworking.
Using images of the earlier sign as a template, Schillawski worked with the school's computer-aided drafting (CAD) software to design and eventually construct a replica of the original hard-carved sign. 
Now a resident of Skaneateles, N.Y., working in dairy management, Schillawski credited her shop instructors — Jonathan Goss and William Derry — for their trust in approaching her with the project, and for guiding her through the difficult construction process. 
"My main interest in the project was the challenge," she said. "Living in town, I was already familiar with Gillette's Castle and grounds. I was thrilled to have the opportunity to make a sign that everyone could enjoy that would be around for many years."
The armature to support the sign was designed more recently by George Mattern and approved by the Connecticut Department of Energy and Environmental Protection (DEEP) in late 2021. That set the stage for the sign's base to be installed and the supporting post erected earlier this year. 
"It's a beautiful sign and we're all thrilled to see this effort finally come to fruition," said Wilkinson.
She continued, "Our deepest thanks go to Lauren for her design work, to George Mattern for his persistent support and to all of the hard-working volunteers who made themselves available — even during the winter — to make certain that this project was completed."
The late Connecticut stage actor's century-old mansion is nestled atop the "Seventh Sister" hill in the towns of East Haddam and Lyme along the Connecticut River. 
The structure is scheduled to open to the public on Memorial Day weekend.
In the meantime, the park at 67 River Road in East Haddam remains open and visitors may stroll around the grounds during regular hours, which are from 8 a.m. until sunset daily year-round. Trail maps and videos of the estate may be found on the Friends website at www.gillettecastlefriends.org.
Gillette was the first actor to become internationally-famous for his performances as Sherlock Holmes. The Hartford native died in 1937 after a long theatrical career and the state eventually took over ownership of his home and surrounding estate. 
Those interested in becoming a Friends member may sign up online or download a mail-in application form at www.gillettecastlefriends.org/joinsupport, or direct their questions to info@gillettecastlefriends.org or (860) 222-7850. 
The organization's mission includes the preservation, restoration and conservation of the historic and unique structure and its scenic grounds.
The all-volunteer, nonprofit group works in cooperation with the Connecticut Department of Energy and Environmental Protection (DEEP). Memberships help to finance park and structural improvements while preserving the estate and Gillette's legacy.