OLD LYME — Estuary Magazine, Life of the Connecticut River, founded in 2020 by Estuary Ventures of Old Lyme, Conn., celebrates its second anniversary with the publication of its Spring 2022 issue available by subscription or at select retail venues the first week of March. 
Estuary is a unique publication and the only magazine dedicated to the watershed of the Connecticut River, an area twice the size of the state itself.
The source of the 409-mile-long river is near the Canadian border in New Hampshire; it flows down along the border between New Hampshire and Vermont, passing through western Massachusetts and central Connecticut to the estuary, below Middletown, Conn., with Old Saybrook and Essex on the west side, and Old Lyme and East Haddam on the east side. 
Estuary covers the watershed: its history, wildlife, plant life, recreation, conservation, restoration, art and culture.  The people and the future of the Connecticut River are captured in fascinating articles and award-winning photography.
A magazine has thus been created to reflect the rich diversity of the Connecticut River valley, its people, and its potential with content directed to the interests of the more than 2 million people, who live in the watershed. 
"We want our readers to enjoy the Estuary experience and learn through the stories, photographs and other images.," says Dick Shriver, founder and publisher of the magazine.
He adds, "With regard to conservation and restoration, we believe that as more people learn about the challenges faced by the watershed in lay terms, more people will volunteer and contribute talent and other resources to the care of this special natural resource."
Estuary's readership now numbers in the thousands, more than double the number a year ago.  Advertising pages have also more than tripled in the past year.
"Our advertising partners understand and applaud Estuary's mission and their support demonstrates their commitment to protect, preserve and restore the Connecticut River watershed," explains Laura Lee Miller, Director of Advertising for estuary.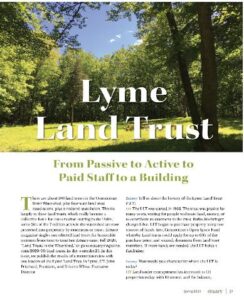 Estuary works closely with the CT River Conservancy (CRC) in Greenfield, Mass.  Headed by Dr. Andrew Fiske, CRC and estuary collaborate to support the work of CRC and other non-profits operating for the benefit of the watershed.  
Thanks to a grant directed to help the magazine, all 700 participants in Lyme Land Trust's May 22 event, the Tour de Lyme, will receive a free copy of the Spring 2022 issue.  
"The magazine itself is the best marketing tool we have," notes Shriver, "and the more copies we can put in peoples' hands, the more support we will have for Estuary and awareness of the work to be done." 
An example of the type of articles found in estuary is this piece by the late Eleanor Robinson, titled, Meeting of the Waters.
Estuary magazine, is published quarterly and is available in print and online for $40 per year (four issues).  Subscribe now or give as a gift. For either option, visit this link:  https://estuarymagazine.com/subscribe/