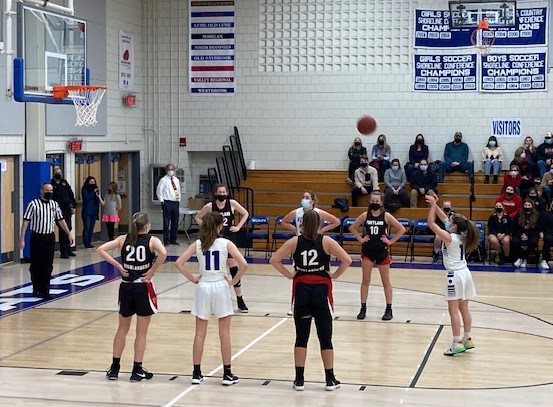 OLD LYME — Despite being what coach Don Bugbee described as. "short-handed and undersized," the Old Lyme basketball girls soundly defeated Portland 51-34 on Wednesday.
In Bugbee's words, "The girls' efforts and competitiveness came through for us big-time."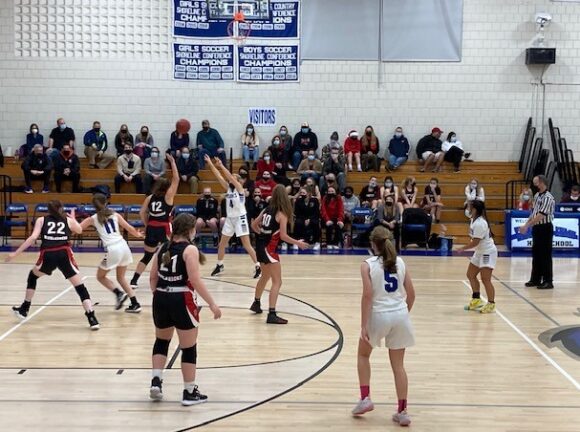 Freshman Kate Walsh, pictured below (#5) making a lay-up, and sophomore Ava Roth scored 17 points apiece, while Roth also added eight steals.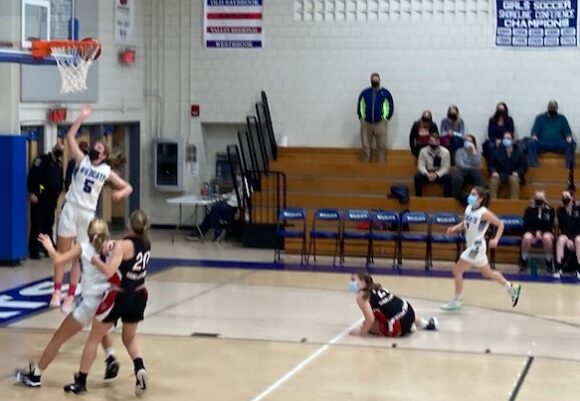 Senior Megan Loflin made a major contribution with nine points, 15 rebounds and four blocks.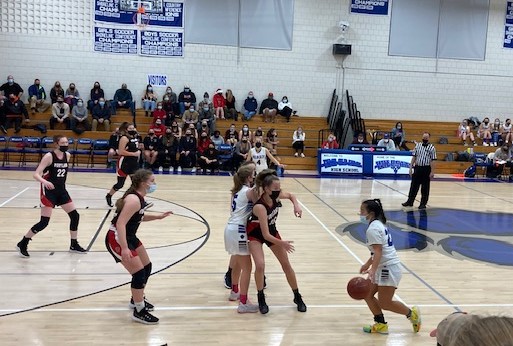 Junior Alexis Fenton, pictured in the photo above dribbling the ball, notched eight points.
Old Lyme's record is now 2-1 and Portland's falls to 1-2.
The Junior Varsity (JV) team won their game 38-12, pushing their record to 2-1.
In that game, sophomore Ella Curtiss-Reardon and freshman Grace Ferman led all scorers with 10 points each. Sophomore Calla Gilson added seven points.
Upcoming games are Tuesday, Dec. 28, when the Old Lyme girls take on Westbrook at Old Lyme, and Thursday, Dec. 30, when Old Lyme travels to St. Bernard's.  Only the Varsity team will play on Tuesday, tipping off at 6 p.m. Both teams play Thursday with JV starting at 5:30 p.m. and Varsity at 7 p.m.