OLD LYME — After a hiatus last year due to the COVID-19 pandemic, the popular High Hopes Holiday Market will be be held once again this year from 11 a.m. to 4 p.m. on Sunday, Nov. 14.
The indoor arena at High Hopes on Town Woods Rd. will be transformed into a vibrant, experiential holiday marketplace. Readers are invited to connect and celebrate in this specialized shopping setting with a group of diversified local artisans, craftsmen, and designers, while also raising awareness for High Hopes' equine assisted therapies.
Items on sale will include scarves and wraps from local spinners, handcrafted soaps and skincare, pet accessories, floral design, upcycled finds, wellness teas and tonics, unique handmade jewelry and delectable sweet treats.
A selection of food trucks around will also be on-site.
For more information about the event and how to apply to be a vendor or have a food truck on-site, visit this link.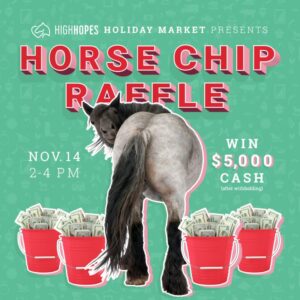 High Hopes is also hosting its annual Raffle for a Cause again, but this year the organizers have changed it quite significantly.
You can win the first prize of $5,000 cash (after withholding) based on where the horse … well, you know! On Nov. 14, at the Holiday Market, a member of the High Hopes herd will "choose" the lucky winners.
The second prize (which has no cash equivalent) is an NYC Overnight at the Penn Club, Broadway Tickets and Dinner at the Capital Grill for two.
Only 600 tickets (squares) will be sold at $50.00 per ticket.
Visit this link for more information and to purchase your raffle ticket.