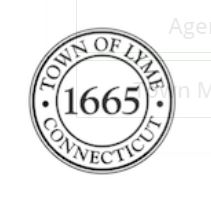 AHC Seeks to Increase Awareness, Understanding of Affordable Housing as Part of its Efforts to Develop a State-Mandated Affordable Housing Plan in Lyme
LYME – As part of its efforts to develop an Affordable Housing Plan for the Town of Lyme by early next year, the Town of Lyme's Affordable Housing Commission (AHC) has published an online quiz aimed at engaging residents in a thoughtful discussion of how affordable housing might take further shape in the Lyme community and how it might benefit the Town and its residents.  
The link to the quiz, "Home Sweet Affordable Home: Test Your Knowledge of Lyme," can be found here: https://www.surveymonkey.com/r/NJ6DTTY.  The five-question quiz seeks to engage Lyme residents by allowing them to test their knowledge of existing affordable housing in town, and by addressing some common misperceptions about what affordable housing actually is.
The AHC is charged with developing an Affordable Housing Plan for the Town of Lyme – a task which is required to be completed by the Spring of 2022 by Connecticut statute §8-30j.  Through the development, community review and approval of this plan, the commission hopes to one day bring more affordable units to Lyme in a way that preserves the Town's bucolic nature.
The commission is also seeking to engage residents in the issue of affordable housing by:
Inviting them to attend its monthly meetings, which currently take place on Zoom on the first Monday of each month at 6:30 p.m.  (Agendas for each meeting are published on the Town website, along with Zoom invitations.  Meeting minutes are also published on the website.)

Publishing information on the Town website that lists resources for residents interested in creating affordable housing options through the use of accessory-apartment construction loans and mortgage programs available from the State.  (That information can currently be found here: www.townlyme.org/affordable-housing-commission.)