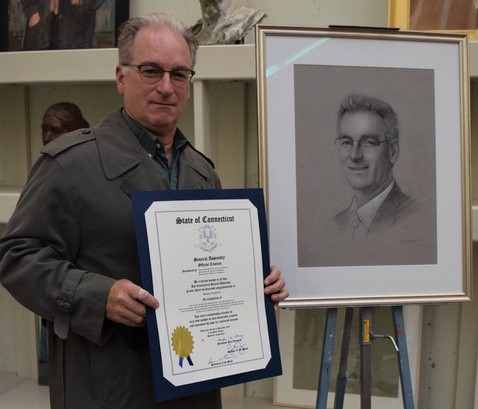 OLD LYME — On Saturday, Dec. 6, the Lyme Academy of Fine Arts (LAFA) Board of Trustees and staff said farewell to long-time board of trustees chairman Stephen Tagliatela. The announcement of his retirement follows five years of service to Lyme Academy as he guided the former Lyme Academy College of Fine Arts (LACFA) through its separation from the University of New Haven. 
"Stephen has shown outstanding leadership during Lyme Academy's most uncertain times. We are so fortunate to be able to move forward based on the solid footing he provided," said Michael Duffy, newly-elected Lyme Academy Chairman of the Board of Trustees.  
In attendance was Connecticut State Representative Devin Carney (R-23rd), who presented Tagliatela with a General Assembly Official Citation from the State of Connecticut. The Connecticut General Assembly recognized his five years as board of trustees chairman, his leadership and his advocacy for the fine arts.  
The Lyme Academy Board of Trustees unveiled a commissioned portrait of Tagliatela by artist, instructor and alumnus Rick Lacey, who is both a LAFA instructor and a LACFA alumnus. Lacey is also a member of the Lyme-Old Lyme High School Class of 2007.
Tagliatela, who is the owner of the Saybrook Point Inn, was also presented with the Elisabeth Gordon  Chandler medal for his service as Chair from 2015 to 2020. 
The board voted in new leadership confirming Michael Duffy as board chairperson, Laura Lee Miller as  Vice Chair and Lee Bowes as Treasurer. Ian Neviaser will continue his role as Secretary of the Board of  Trustees. A complete list of Trustee members is available at this link. 
Duffy commented, "We are grateful for what the board has accomplished over that past year in establishing Lyme Academy as an independent entity and are looking forward to re-establishing the Academy as a prominent Art  School and Center for the Arts.
He added, "We are currently engaged in a search for an Artistic Director for which  we have very strong candidates. In addition, we have just approved the search for an Executive Director, who will lead the business of the Academy."
Duffy concluded, "We are very excited about the future," 
Editor's Note: Lyme Academy of Fine Arts located in Old Lyme, Conn. was founded in 1976 by esteemed sculptor Elisabeth Gordon Chandler. The historic town of Old Lyme has been a vibrant, national center for the arts and artists for more than 100 years.
Lyme Academy upholds the standard of a Classic Fine Arts education offering a variety of programs under the guidance of  master artists, who share a deep respect for both traditional and innovative forms of teaching. The  Academy has been providing students with the necessary foundation and skills to develop their own unique visual expression for nearly 50 years. 
For more information about Lyme Academy's past, present and future, visit the Academy's website.