OLD LYME — Having watched the third-seeded Old Lyme boys unexpectedly lose 3-1 to #6 seeds Haddam-Killingworth, the top-seeded Old Lyme girls came out slightly nervously Wednesday afternoon to face Old Saybrook, who were seeded eighth.
The lone scorer for the boys, who are coached by Ally Gleason, was Jesper Silberberg.
In the girl's game, Old Saybrook scored first and then Ali Kyle equalized for Old Lyme off a rebound from a Maddie McCullough shot.
Emily DeRoehn scored the second goal for the Wildcats to take the score to 2-1 at the half.
Coach Paul Gleason must have had some motivating words for his team during half-time because the girls came out firing on all cylinders in the second half.
The Wildcats came out in the second half with renewed confidence and sophomore McCullough then put the ball in the net herself to score the 'Cats third goal.
The impressive fourth Old Lyme goal was scored off a free-kick by sophomore Alexis Fenton.
Senior Lauren Wallace (#18 in photo below) scored the final goal for the 'Cats.
The final score was 5-1 to Old Lyme, who now play their semifinal game at home against fourth-seeded Coginchaug on Friday with a 2 p.m. kick-off.
In the boy's game, Tim O'Brien (center in photo below, at left) played a significant role …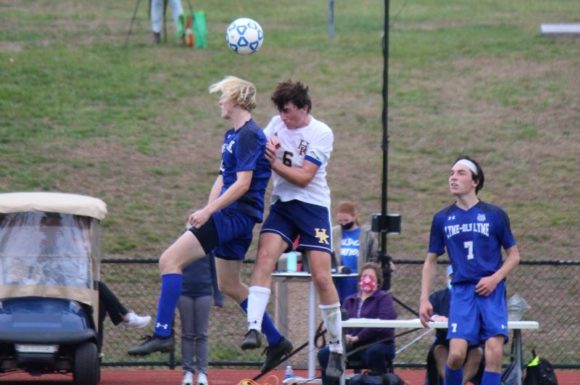 … while Jonah Lathrop gave a strong performance in goal.