OLD LYME — At the end of a lengthy and somewhat exasperating (due to some Zoom issues) Old Lyme Zoning Commission meeting held virtually on Monday, Nov. 9, Chairman Paul Orzel asked if members had anything additional they wished to say before the meeting adjourned.
Orzel then said he, in fact, had something to say since he wanted to take a moment to highlight that it was Jane Cable's final meeting as a member of the commission.
He noted she had served on the commission since 2005 and been chairman since 2010 adding emphatically, "We are going to miss you. You have been a tremendous mentor and inspiration …"
Cable then interrupted Orzel, quipping, "… and a pain in the butt!" but he continued, adding, "I can't thank you enough," and observing, [After leaving the commission,] you might be out of the picture but you won't be off our radar."
Alternate commission member Michael Barnes explained to Cable, "My interaction with you a while back made me want to get on the zoning commission," but he now expressed sincere regret that she was leaving, saying he recognized, "Your knowledge is immense."
Cable graciously acknowledged, "The Commission has to change," and then added enthusiastically, "And I'm joining the [Old Lyme] Ethics Commission!"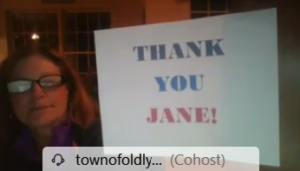 Describing herself as a "frequent flyer" at zoning commission meetings, Old Lyme Selectwoman Mary Jo Nosal spoke warmly of her relationship with Cable. She noted, "You have mentored me … thanks to you, I've learned so much."
Nosal said, "You've left an extraordinary mark on the zoning commission." and then she held up a sign — even though she was seated in her own home looking at a computer screen — that read, "Thank you, Jane!" (See photo at left.)
Expanding on the sign's message, Nosal then concluded with the heartfelt words, which seemed to sum up the feelings of all the commission members, saying, "Thank you for sharing your time and talents with us."
Here at LymeLine.com, we will add our own words of thanks to Jane for her outstanding service to the Old Lyme Zoning Commission and all the support she has given us over the years.