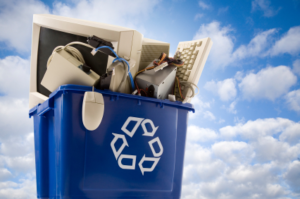 OLD LYME —
Do you ever scratch your head over what you should – or should not – recycle?
Recycling is the right thing to do, and you are doing your best not to toss inappropriate disposables into your blue bin, but it can be confusing. It's time to cut through the confusion and recycle with confidence.
Saint Ann's Parish/Environmental Committee, Lyme Public Library and Old Lyme Phoebe Griffin Noyes Library are hosting a free Zoom presentation Wednesday, Oct. 14, at 6 p.m. by Sherill Baldwin, Connecticut Department of Energy and Environmental Protection (DEEP) expert in Source Reduction and Recycling. She will introduce and explain the universal list of recyclables for Connecticut.
Visit any of the websites of the three sponsoring organizations for more information and/or to register for the event.
At DEEP since 2008, Baldwin has over 30 years experience in sustainable materials management. Her current projects include the
RecycleCT Foundation
, CT WRAP initiative and product stewardship programs. She facilitated the creation of a universal list of acceptable recyclables in the State of Connecticut and helps promote the "What's IN? What's OUT?" campaign.
Baldwin received an M.S. in Resource Development from Michigan State University and B.A. in Solid Waste Management from UMASS/Amherst.
Editor's Note: The links for the three organizations are as follows:
Saint Ann's Parish/Environmental Committee,
Lyme Public Library
Old Lyme Phoebe Griffin Noyes Library