"Soaked" is quite simply an enchanting book that captivates and delights youngsters from the first page to the last.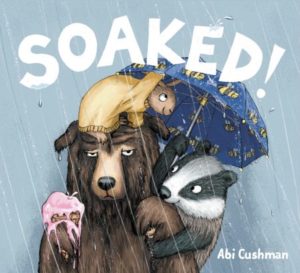 I can say that with some authority since I 'tested' the book on my two-year-old grandson William and his response to it was nothing short of remarkable. He not only asks for the book by name every time he sees me but also  — or so his parents tell me — at almost every bedtime.
Moreover, he has renamed it!
And the reason he did that is because the only word in the whole book that he didn't understand was, by coincidence, its title … 'Soaked.' By the way, the inside cover states the book is for, "Age 3 and up," but William, at two, lapped it up.
When I finished reading 'Soaked' to him for the very first time, William desperately wanted to hear it again and, without hesitation, asked me to read the "Rain Book," which is, in fact, a wonderfully apt title.
That is now what it will be known as henceforward in our family since we took a copy on a family vacation recently and by the end of the week, every member of the family had read the 'Rain Book' to William multiple times!
First-time author-illustrator Abi Cushman of Niantic, Conn. is an extraordinarily talented illustrator. (Full disclosure, I know Abi, but primarily in a professional capacity.) Although she remains remarkably unassuming about the fact she is now a published author, she should be extremely proud of that achievement — and perhaps even more so, of the beautiful book that is the root of her new-found fame.
She has created four characters, Bear, Badger, Bunny and Moose, whom you feel you've known your whole life … in the same way that we all know Winnie-the-Pooh. Their respective personas come through loud and clear though Cushman uses very little narrative to convey them.
Moose is far and away William's favorite character in the story.
Well, of course he is … who couldn't be drawn to a Hula-Hooping moose? You've never heard of a Hula-Hooping moose? Neither had we, but he fits so perfectly into this delightful story, you take him completely for granted as though it's perfectly normal for a moose to have a set of hula-hoops at which he is adept at using.
The hula-hoops are, in fact, key to this simple tale, cleverly linking its various elements and locations. The story travels from sad scenes in the depressing rain through to Bear's dry cave (where there is insufficient space for Moose to hula-hoop, but he does it anyway!) followed by the rescue of a hula-hoop from a high branch (which involves a great deal of precarious standing on shoulders) and then the jovial collapse of the tower of animals.
All the animals, who topple together after successfully retrieving the hula-hoop, surface cheerfully in a mass of water and are thoroughly "soaked." This jolly scene leads to the idea that Bear should try hula-hooping.
Now Bear, who is the story narrator, is a pretty grumpy fellow and anxious to maintain his negative outlook on the world, regardless of what befalls him. He does not want to enjoy hula-hooping but it is abundantly clearly from the charming illustrations that Bear takes to it like (and forgive the pun!) a duck to water, urged on by the ever-present, cheery Badger (with the bumble-bee umbrella) and bounce-along Bunny.
There are a variety of morals that can be drawn from this simple story and the reader can choose which one is most age-appropriate. It could be a deeper one like the value of true friends or the strength of teamwork, or simply that you don't have to have sun to have fun.
There are other possibilities too and another strangely wonderful thing about this book is that there are many places in the text where you can fill in the story details as you wish, making it possible to create new twists to the story with every reading
I won't be a spoiler and divulge the surprising ending to the story.
You'll have to buy — or borrow — the book for yourself. And I strongly recommend you do just that because this is a very special book, which I predict will stand the test of time … perhaps even lasting as long as that beloved Pooh!  The illustrations on their own justify the purchase of the book.
This may be the humble Cushman's first book but I'm confident it certainly won't be her last. I sincerely hope we'll soon be hearing more about the adventures of Bear, Badger, and Bunny and not forgetting, that Hula-Hooping Moose!
Editor's Note: Visit Abi Cushman's website for more information about the book and details of where to purchase it.