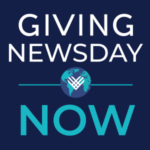 LYME / OLD LYME — We are excited to be participating in #GivingNewsday, a campaign to bring our neighbors together to subscribe, give, and amplify as they can to support our coverage, especially during this time of COVID-19.
May 5, 2020 has been designated as #GivingTuesdayNow by GivingTuesday.org. This global day of giving will rally philanthropic support in an effort to ease the economic impact of the coronavirus pandemic, which has already proven to be particularly costly for local news organizations.
Here at LymeLine, we're working hard to provide you with essential coverage to keep the Lyme-Old Lyme region safe and informed. Just like you, the impact this pandemic has on us affects our well-being, finances, and routine, but we are persevering and remain committed to serving you, our loyal readers.
Your continued support is so meaningful to us during this time, and as part of #GivingNewsday, we encourage you to share our stories and resources with your loved ones and welcome them to SUBSCRIBE TO OUR NEWSLETTER at this link and/or DONATE using this link.
We have been covering community news in Lyme and Old Lyme since 2003 — that's more than 17 years! During that time, our income has come exclusively from advertising and we thank sincerely all our advertisers over that time, but especially those who have placed their business with us on an ongoing basis for many years. These include The Ivoryton Playhouse, Suisman Shapiro Attorneys at Law, the Valley Railroad Company (which operates Essex Steam Train & Railboat), Lyme Art Association, and the Florence Griswold Museum.
Meanwhile, in line with our mission statement "to be an integral part of the fabric of the community that we serve," we have never instituted a paywall on our site (unlike, for example, The Day) with the result that readers can access all parts of our site at no charge and there is no limit to the number of articles that anyone can read.
Also in keeping with our mission, we donate significant amounts of advertising to numerous local non-profits every year.
Now let's look at the national picture for a minute — more than 2,000 newspapers have closed since 2004, including the former Main Street News and Pictorial Gazette, both of which used to serve us right here in Lyme and Old Lyme with well-researched community news. But remember you used to pay for them …
Although we do not charge to read LymeLine.com and still do not intend to introduce a paywall, it costs money to produce the news. First and foremost, reporters have to be paid. Quite simply, the more we invest in reporters, the better in every way the news is that we publish. We also have charges for software development, graphic design, marketing, web-hosting and a myriad of other operational and administrative expenses, which arise when you run a small business.
So spurred primarily by an enormous loss of revenue due to the COVID-19 pandemic, we are now turning to our readers for the very first time for financial support so we can continue our work while also expanding our pool of freelance journalists.
Please consider a donation of any size to support the continued production of Local, Independent, Online News here at LymeLine (and yes, we are members of the national LION Publishers organization!) You can make your donation a monthly contribution if you wish, in the same way that you perhaps subscribe to a newspaper.
If you prefer to send a check, then please make it payable to Shoreline Web News LLC and mail it to:
3307 Oberon Street,
Kensington, MD 20895
THANK YOU!