Editor's Note: I first met John Guy LaPlante when we both worked at the now sadly departed 'Main Street News.' I was a beat reporter covering Westbrook and he was busy writing columns about his most recent adventure, which happened to have been going round the world! We went our separate ways after the newspaper closed but stayed in touch.
He followed up that first amazing trip with another focused on Asia, and then at age 77, he joined the Peace Corps! He was the oldest volunteer the organization had ever accepted and was sent to Ukraine, where he served his full term of two years. John has written books on each of these experiences, which make fascinating reading.
Quite simply, he is one of the most remarkable people I have ever met. He suffered a serious accident in his former Deep River home, but made an extraordinary recovery and has just returned to his new home in Morro Bay, Calif. after a lengthy bout of double pneumonia. But does he complain? Never. John is probably the most positive, optimistic, cheerful person I have ever met and this column hopefully helps you understand a little of what makes him tick. He really is an example to us all.
Read more about John and information on his books at this link.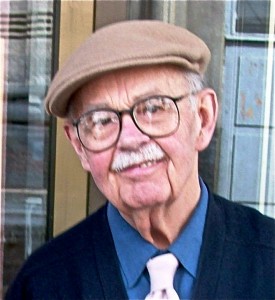 Today, April 26, I turn 91. Wow!
So of course today will be the first day of my 92nd year on this planet. Amazing.
Know what? I never, never thought I would live this long.
Like lots of people over 65 or 70, now and then I've wondered how long I'll be around.
So recently I researched it. I checked at the Social Security website — 3.7 more years for me. and 4.5 for ladies. But those are averages. Some will live longer, some shorter.
Then I wondered, what are my odds of reaching 100? No idea.  I haven't come up with that number yet. Actuaries know that. I don't know any actuary.
I do believe I have a better chance to hit 100 by living here in peaceful and quiet and crime-low Morro Bay than in so many other places.
Anyway, here are a few reasons why I do think I might live to become a centenarian.
I've never smoked, well, since the age of 17.
I've never drank — oh, at Sunday dinner maybe, or on a special occasion, but just a small glass of Manischewitz.
And very important, I've always, or nearly always had work of the kind that I enjoy. Writing. Which is what I am doing right now. Although I no longer get paid for writing. Shucks.
As we know, so many people work at something so humdrum that they just can't  wait to call it quits and start collecting Social Security.
So do I hope to hit 100? Not if I have to end my days suffering through some awful, monstrous, hopeless whatever.
Or in pain. Or being kept breathing through a machine. Or being a burden. Or with no loved one by my bed to hold my hand.
No problem there. I have three kids, and they are great, as are their spouses.
Of course, there is more doubt about all this now than there would have been a few months ago. The fearful Covid-19  pandemic!
I'm a perfect candidate for that, by the way. I'm very old as you know. And I was recently hospitalized for double pneumonia. From what I've read, that's a very ominous possibility.
At times now and then, like you I'm sure, I've wondered what life is all about.
Is it an adventure? A highway we are plunked down on for better or worse and can't get off of until we run out of gas, so to speak?
Is it a religious prelude to heaven or hell?
Or a good opportunity to use whatever talents we have been handed to make a better life for ourselves?
Or just a mystery, a very tough one, to try to fathom?
Or a bit of this and that? Please, what do you think?
And the big, big question now, is life over when it's over? Or is there another life for us?  People with their smarts working have been pondering that question for eons. I believe it's over. But I may be wrong.
Anyway, one thing I'm sure of is I've been most fortunate.  And in many ways.
I was born male. I never questioned that. I was fine being male. In recent years I've been astonished to find out many males are unhappy about that. So unhappy they will go to great lengths do change that.
I was born to a wonderful father and mother. They nurtured me in many ways. Loved me and showed that to me time and again.
I was born white, which many consider a big plus in our mixed society.
And was born American, which I'm sure you won't disagree is more desirable than being born Nigerian or North Korean or Haitian or Costa Rican or citizen of so many other countries.
And I was born with an IQ a wee bit higher than 100, so I've been told . That's a pretty good plus.
And have been blessed with better than average health over these many years.
And so lucky to have been privileged to get a good education. And of course that opened the door to numerous opportunities. And certainly saved me from ever having to stoop to cheating or trying something criminal to make a living.
Also, so fortunate to have become a vegetarian. Increasingly that's considered a more healthful way of life. Yes, definitely, though I did that also because I liked the idea of not having to kill animals to fill my stomach.
And I've always had a lot of friends. I feel good about that.
Now another big question. A great big one. Have I thought of how I'd like to die?
Have you? Well, it may be you're not old enough yet to have a question like that come to mind.
I have indeed given that some thought.
For sure before my health fails to the point that things really start to become hard and difficult. My sixth sense tells me that may not be that far off.
But definitely not the way my good friend Cam died ten days ago. No, no.
We met as freshmen at age 13 and were friends all through prep school and college. Early on, we found out we were born on the very same day, April 26, 1929! That became a special bond that kept us close these many, many years.
I became a journalist plus other things. He a Catholic priest. He loved being a priest and for the very best of reasons and he became a fine one.
Cam–never did I ever call him Father Cam–retired only some 15 years ago, long after he could have. And did so quite reluctantly.
We always kept in touch. It was important to us. Rarely did we miss on April 26.
Well, eighteen months ago Cam began slipping. A kind and gentle man, he began turning people off, fellow priests and longtime friends and even his own loving sister. Alzheimer's! And it got worse. Hard to believe, but he had to be institutionalized. And then quickly he died.
May I be spared an awful ending like that.
His death was a huge emotional jolt to me. I've thought about it time and again.
On a couple of mornings I thought of him the minute I opened my eyes .
As for me, I've written my will and done everything else that goes along with that.
So, getting back to that big question, how would I like to die?
Well, while still reasonably healthy. Before the pain and the misery kick in. I'd like to go to bed here in my home one night and close my eyes … and simply die.
That would be nice and easy for me, and for my family and friends also.
But not, not quite yet.
So, friends, how does that sound to you?
And right now, what?
Well, it's a beautiful day.
As usual this afternoon I'm going to hop on my tricycle and pedal it and pedal it.  For the exercise and fresh air and the fun of it. I do that on every fair day.
Often I'll stop at Albertsons Supermarket for groceries. I have a big basket on the back of my trike, which is great for that.
Of course I put on my face mask for that and am careful about social distancing. Which I do whenever necessary.
Then I'll pedal to McDonald's for my daily cup of coffee. McDonald's is take-out only now, of course. I used to like to read the paper in there. No more.
And today, my birthday, I'm sure I'll be able to squeeze that in. But I'll skip Albertsons. I will pedal longer to celebrate the fact I can still do that.
If things were normal, there would be a party, and there would be a birthday cake with a lot of candles on it, maybe even 91. Some jokester might do that. And I'd be expected, even cheered on, to blow them all out. No way!
Oops, not to worry. There's not going to be a birthday cake. There's not going to be a cake. No candles. And no party, either.
Social distancing!
But I've been getting birthday cards and phone calls and emails. And that's been wonderful.
And in 365 days, the gods willing, let's hope Covid-19 will be over. And then on my birthday, I'd love  a little party and a cake with candles on it. Yes, sir.
Maybe 8 or 10. But please, please, not 92!