OLD LYME — Members of Lyme-Old Lyme non-profit, philanthropic and volunteer organizations heard first-hand updates Wednesday on two significant efforts that could shape the character and commerce of Old Lyme in coming years.
The Community Connections networking luncheon at the Old Lyme Country Club, attended by roughly 40 people, featured speakers from Lyme Academy of Fine Arts (LAFA) and the Old Lyme Economic Development Commission.
Lyme Academy Looks to the Future
Lyme Academy Executive Director Frank Burns and LAFA Board Member Sue Grey outlined the strategic planning process currently underway at the Academy. The 13-member volunteer Strategic Planning Committee made up of artists, educators and business leaders, has been meeting monthly to explore multiple short- and long-term collaborations with a broad range of arts, cultural and related organizations, businesses and enterprises.
"We're trying to get back to where we were," said Burns, who was appointed last summer to create a new business model for the institution, subsequent to the University of New Haven's (UNH) decision to no longer include the academy as part of its institution. This includes seeking accreditation status again, something the academy had previously achieved when it became a college in 1996. When UNH took over Lyme Academy College in 2014, the College remained accredited under the UNH banner but with the announced withdrawl of UNH in 2018 (classes ended in 2019), that accreditation has been lost.
Burns said that while none of the 12 organizations, which were initially contacted to explore continuing the accreditation, expressed interest in 2018, there has been some new willingness at this time. Burns told LymeLine in a phone call Friday morning that the Strategic Planning Committee is in discussion with a number of institutions, which are reviewing the Academy's courses and may enter into some form of joint programming arrangement with the Academy. He said if that were to happen, the Academy, "may be able to offer college credit under their [the partnering institution's] name," but stressed that discussions were ongoing and nothing was yet agreed.
"We are looking at all sorts of short-term and long-term collaborations with the arts world," said Grey, who has an extensive background in strategic planning for non-profits and businesses, large and small, citing artists collaborations in other shoreline communities. She explained that the goal is to develop plans that respect and support the history, brand, mission and vision of the art academy so the emphasis is on longer-term sustainability and momentum. She noted the board is not immediately expecting to fill the academy's 42,000 square feet of usable interior space.
Grey said she hopes to present workable recommendations to the board around May 1, although she welcomed any late-breaking ideas or proposals in the coming weeks.
"We're trying to find partners that would be compatible with the academy and would fit with the town," Burns said, noting that the academy does not own residential housing, and the board is not interested in getting into the housing market. While this poses challenges for artists-in-residence programs, he said the board recognizes the opportunities for continuing education programs that fit with the region's aging demographics.
Burns reported that the Academy has been signed an agreement with The France Foundation, an Old Lyme-based continuing education provider for health care professionals, for the Foundation to lease just under 6,000 square feet of space in the Chandler Academic Center, which served as the former College's administrative center. Burns mentioned in Friday's phone conversaion that the Foundation is moving into the space this coming weekend.
"We want to be actively involved in the community," he emphasized, citing the academy's pumpkin painting venture with Lyme-Old Lyme Schools' students in October last year and how the Academy became a destination for families on Halloween. He also noted that the Academy was the site of Old Lyme's annual tree-lighting ceremony in this past December and said more community arts activities, including ones based around Valentine's Day and Easter themes, are in the works.
Next Steps for Old Lyme's Economic Development
Economic development in Old Lyme is much more than pure economics, Howard Margules, co-chair of the Old Lyme Economic Development Commission (EDC), told the group. It embraces the values of the community and the town's legacy. This includes arts and culture, maintaining a vibrant community that can continue to support these, and both an increased walkability and connectivity of discrete parts of town.
Margules outlined the effort undertaken by the EDC in past months. This includes a survey of residents and businesses and two SWOT (Strengths, Weaknesses, Opportunities and Threats) analysis workshops conducted by the Connecticut Economic Resource Center (CERC) with community stakeholders, including business owners, non-profit organization leaders, clergy and interested residents.
Public participation in the online survey was record-breaking with 680 residents and 110 businesses responding, said Margules. Significantly, CERC staff said this was by far the highest response rate in town surveys since 150 responses would have been a more typical number, based on the postcard mailing and local outreach. He noted that 70 percent of responses were from people over 50-years-old.
While data is still being analyzed before the full survey results and recommendations from CERC are made public, Margules said the EDC has given Old Lyme First Selectman Timothy Griswold a preliminary review.
Margules then went on to share highlights of the survey results with the Community Connections audience, noting first that most respondents said they wanted more shopping and dining in town, but that there also was a loud and consistent message to retain the character of Old Lyme.
"People overwhelmingly told us they want more development on Halls Road," he said, pointing out that a majority responded positively while only 19 percent opposed any additional development there. Almost 75 percent of respondents said they wanted more green space in the Halls Road area. Meanwhile, businesses responded that they wanted more and better promotion, more of a town center, and to attract more younger people.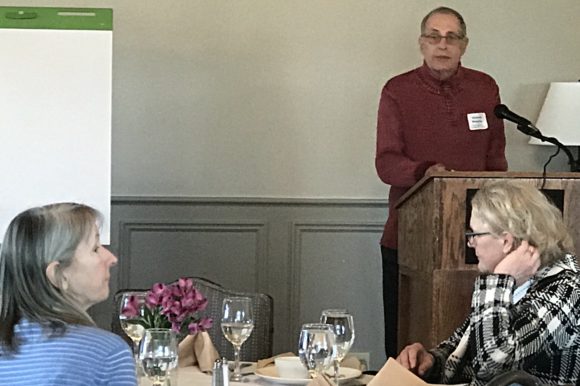 While there currently is no Halls Road plan, he mentioned that the next steps will be to come up with a master plan, which would require appropriate zoning changes. Development would be done primarily by the private property owners.
"The idea of 'Let's do nothing' will not hold up," Margules said firmly in respect of Halls Road and the town's retail areas.
Commenting that,"Housing is a very muddled response," he noted that respondents appear to support more affordable housing options for downsizing seniors and also college students, who wish to return to town but not be living in their parents' basement.
Once completed, the CERC reports will be shared publicly. A final piece still to be undertaken is an extensive feasibility study. This will include specific recommendations of the kinds of retail and housing, based on survey responses and available areas in Old Lyme, and what has worked in other similar communities in the region and state.
Since the EDC operates without a budget and Old Lyme does not have a professional town planner, Margules said next steps include addressing how the recent surveys, SWOTs and recommendations will be utilized and incorporated into the town's planning, zoning and economic development strategies.