LYME/OLD LYME — Today, Lyme-Old Lyme Schools will honor veterans, who are residents of Lyme and Old Lyme, with a series of events celebrating Veterans Day.
A Breakfast for Veterans will be hosted the in Lyme-Old Lyme Middle School (LOLMS) Cafeteria from 8 to 8:45  a.m. and then this will be followed by an Assembly in the LOLMS Auditorium.      
Next on the schedule is a Veterans Reception, which will take place in the Lyme-Old Lyme High School (LOLHS) Media Center from 10 to 10:30 a.m.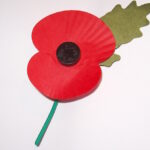 Finally, in terms of events hosted by Lyme-Old Lyme Schools, there will be a LOLHS assembly from 10:30 to 11:30 a.m. in the High School Auditorium.
After that, veterans will go their separate ways and a Veterans Day Ceremony will be hosted by the Lyme Veterans Memorial Committee at 10:55 a.m. at the Lyme Veteran's Memorial, 480 Hamburg Rd., by Lyme Town Hall.
Meanwhile, down in Old Lyme, a Flagpole Ceremony will be held at the Old Lyme Town Hall from 11:45 a.m. to 12 p.m.
All are welcome to join the latter listed ceremonies in either Lyme or Old Lyme.