LYME-OLD LYME — For most of us, the kitchen is the heart of our home.  It's where we prepare our meals, and often it's where we enjoy them. From our morning coffee to a late-night cup of tea, whether breakfast on-the-go or a complete holiday meal, the kitchen is the source of sustenance for ourselves and our families, and it often reflects who we are and how we live.
The 2019 Lyme/Old Lyme Kitchen Tour offers an opportunity to view seven beautiful kitchens inside distinctive private homes in Lyme and Old Lyme, Conn. It takes place for one day only, on Saturday, Oct. 5, from 10 a.m. to 3 p.m.
Each of the kitchens on the tour offers something special for the tour-goer; most notably, the former home of a renowned Impressionist artist whose hand-painted panels remain on the doors and cabinets of the kitchen. Several of the homes are more than two centuries old, whose kitchens have been updated for modern living; another, an early twentieth-century caretaker's cottage, boasts an architect-designed contemporary kitchen. Two of the kitchens on the tour are in homes that sit directly on Hamburg Cove in Lyme, while another boasts marsh views of the Connecticut River.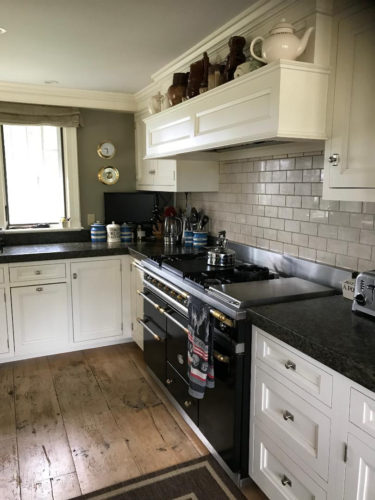 Whether you are seeking ideas for your next kitchen remodeling project, or just have a fine appreciation for design and architectural beauty, there's much to see on the Lyme/Old Lyme Kitchen Tour, including "tablescapes" created by local professional designers. And with the colors of autumn dotting the lower Connecticut River Valley, the Lyme/Old Lyme Kitchen Tour also offers a great reason to take a scenic drive in the country.
Tickets are $25 in advance, $30 on the day of the tour. Advance-sale purchasers will pick up tickets and maps on Oct. 5 at the Old Lyme Inn or Reynolds' Subaru in Lyme, where same-day tickets will also be sold.
For more information, email cfa.lolauxiliary@gmail.com.  The Lyme/Old Lyme Kitchen Tour is a self-guided driving tour; allow at least two hours to complete the tour and  leave your pets at home.
Proceeds from the Lyme/Old Lyme Kitchen Tour will benefit the programs and capital projects of Child & Family Agency of Southeastern Connecticut, a private, nonprofit organization whose mission is to nurture children and families to develop their strengths through service, partnership, and advocacy. With offices in New London, Essex, and Groton, and a professional staff of 170, Child & Family Agency is the largest nonprofit children's service provider in southeastern Connecticut.