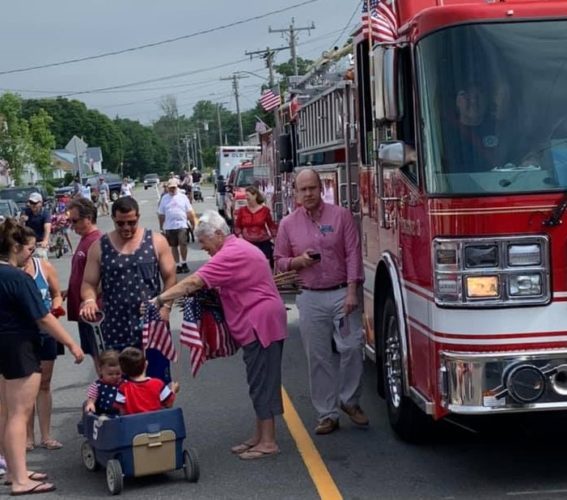 Sound View held its 26th annual Independence Day parade yesterday and yet again, the sun shone brightly for the occasion.
Joann Lishing led the parade proudly holding the Stars and Stripes and — as always — beaming broadly.  She was followed by the Silver Coronet Band and then local members of the VFW.
State Representative Devin Carney (R-23rd), pictured in the red shirt above, participated in the event as did Old Lyme Selectwoman Mary Jo Nosal (also wearing red and walking behind State Rep. Carney in the photo above.)
The remaining participants in the huge parade were the myriad of appropriately decorated bicycles and their riders, golf carts bedecked in red, white and blue and their passengers, a girl on stilts, emergency vehicles and their personnel, and anyone else who wanted to join the parade!
Participants gathered at the north end of Hartford Ave. and then marched south towards Long Island Sound, back up Portland Ave. and across to Swan Ave. The final segment of the parade was the return trip up Hartford Ave. to the Shoreline Community Center.
Visit this link to view a video taken by Carol Mirakian of the parade.
Visit this link to view a gallery of photos of the parade taken by Dana Jensen and published on TheDay.com.