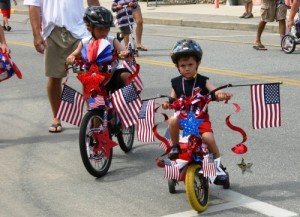 Lymes' Youth Service Bureau (LYSB) invites any youth in Lyme and Old Lyme, who are not already participating in the Memorial Day parade down Lyme Street on Monday, to join the parade and march with them, saying, "Everyone belongs at LYSB!"
Decorate your bikes, scooters, wagons, strollers … basically anything with wheels (but nothing that's motorized!) and then join the fun!
Meet at the corner of the Lyme-Old Lyme Middle School tennis courts (behind the large illuminated "Lyme-Old Lyme Public Schools" sign) at 10:30 a.m. The parade steps off at 11 a.m.