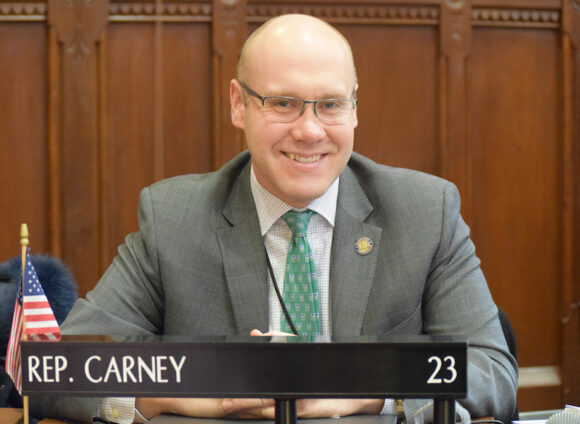 State Representative Devin Carney, pictured above in a file photo, whose district includes both Lyme and Old Lyme, has received his appointments regarding the committees on which he will serve on during his third two-year term.

House Republican Leader Themis Klarides named Carney to her 2019-2021 leadership team as Assistant House Republican Leader, which provides for a stronger voice at the legislative bargaining table and gives him leadership responsibilities on the House Floor during floor debate.
Rep. Carney will return to the legislature's Finance, Revenue and Bonding Committee where he will serve as the Ranking Member of the Transportation Bonding Subcommittee, which oversees state bonding for transportation projects.
Rep. Carney will also return as a member on the Transportation Committee, where he previously served as Ranking Member.
New this term, Rep. Carney will be a member of the Planning and Development Committee which oversees matters relating to local governments, housing, regional planning, conservation, and economic development.
He was also named to the House Republican Screening Committee, a select committee that reviews all legislation.
"During his time here in the legislature Representative Carney has proven himself to be a trusted leader and legislator," said Rep. Klarides on her appointment of Carney. "These committee assignments and his position as Assistant House Republican Leader prove that he is someone I have come to depend on."

"I am honored to be appointed to these committees for the 2019-2021 legislative term," said Carney. "There are many important issues that will arise within each of these committees. I look forward to dedicating myself to the work ahead and advocating for the people of the 23rd District."

Rep. Carney represents the 23rd District, which, apart from Lyme and Old Lyme, also includes Old Saybrook and part of Westbrook.