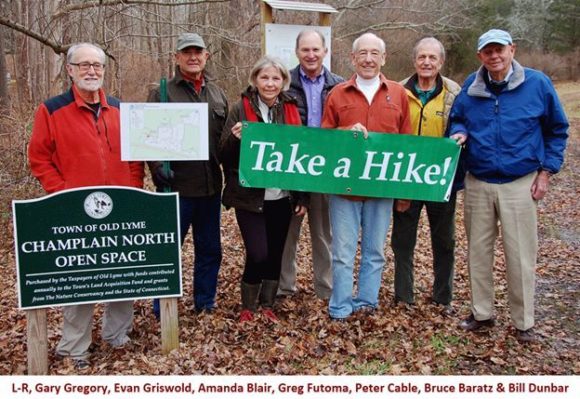 On Friday, Dec. 21, at 5:23 p.m. EST to be exact, it was the Winter Solstice in Connecticut — the darkest day of the year, with just over nine hours of light.  
The year of 2018 started out dark for the Old Lyme Open Space Commission. Diana Atwood Johnson, who served as chair for nearly 20 years, passed away on Jan. 1, after a long illness.

After the Solstice, however, days start to become lighter, and nature resumes its cycle of renewal as spring approaches. In January, Amanda Blair and William Dunbar became the new Open Space Commission co-chairs, and every member pitched in.
The first order of business was to continue the care of Old Lyme Open Space property. A land steward was hired; members personally walked trails to survey conditions; a service was hired to remove unsafe trees and branches; safety plans were discussed with the town fire marshal; new signage and trail markers were added; a new parking area for Champlain North was created; and the commission reached out to the Old Lyme Land Trust to work on mutual projects.

Renewed educational efforts were also made. For the first time, the Commission staffed a booth at the Midsummer Festival; news releases were issued; and the Open Space Commission web site was updated.

Early in 2019, the Commission expects to have some very exciting news! And work on substantial projects will accelerate – boxes of documents and correspondence on open space will be categorized, and conservation easements reviewed, as an antecedent to the drafting of a new Open Space Plan.

The Commission's message remains: "Take a Hike!" Don't let winter keep you inside. The trails are now in great shape for hiking, and when covered by snow, they'll still be fun to snowshoe or cross-country ski.
As weather warms in the New Year, volunteers will be gratefully welcomed for trail assistance.