Taking place this year in Reno, Nev., the Junior Olympics attracts the fastest young people from all 50 states. Old Lyme resident Laila Goodman, who is in second grade at The Country School in Madison, took 8th overall out of the 168 female runners who qualified for the 8 & Under race. Goodman is pictured below with head of School John Fixx.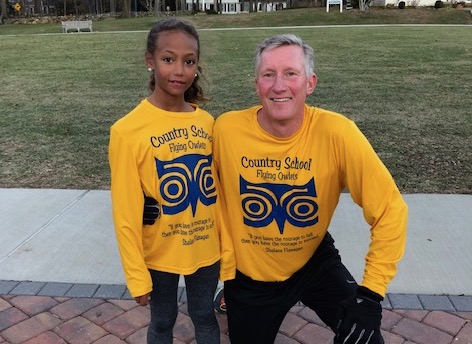 After the opening 400 meter uphill, Goodman was in 26th place and then steadily ran down her competition over the 2000-meter race course, sprinting hard at the end to defend her hard-fought position as a young 7 year old.
All-American status is achieved by finishing in the top 25 in the United States, and Goodman becomes the second Country School runner to gain that accolade, following in the footsteps of alumnus Robbie Cozean, who was a three-time All-American.
Goodman competed with three other Country School runners: Keve Frusztajer of Guilford, and brothers Connor and Sam Duffy of Madison.
With these four student-athletes qualifying for Nationals, Country School has now sent more runners over the last six years to the Connecticut Junior Olympics (92), the Region 1 Junior Olympics (79) and the National Junior Olympics (19) than any other school in Connecticut.