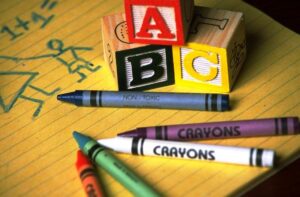 Lyme-Old Lyme (LOL) Schools are considering an expansion of their current Pre-Kindergarten (Pre-K) program to allow all age-eligible students in the towns of Lyme and Old Lyme to attend.  In an effort to prepare all students for Kindergarten, their tentative plan is to expand the current Pre-K offerings to all students in Lyme and Old Lyme and establish a universal Pre-K program based on Connecticut's Early Learning and Developmental Standards. 
Lyme-Old Lyme Schools also hope to entice non-residents to move to the district, or enroll their students on a tuition basis, to enjoy this added benefit.  This tentative plan would begin in the 2019-2020 school year. 
To assist in the planning process, LOL Schools are seeking reader's input.  If you have a child that will be three- or four-years-old by Sept. 1, 2019, and are interested in your child being considered for this program, you are invited to complete this survey before Nov. 15, 2018.  Survey results will be used in both the Pre-K planning process, and to secure spots in this exciting new program.  
For more information, contact Ian Neviaser, Superintendent of Lyme-Old Lyme Schools, at neviaseri@region18.org or 860-434-7238.