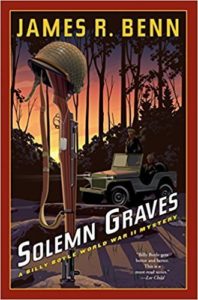 Local author James Benn will speak about his new novel, Solemn Graves, at Lyme Public Library on Thursday, Oct. 4, at 7 p.m.  The title is the 13th novel in the Billy Boyle WWII Mystery Series. 
Publishers Weekly gave Solemn Graves a starred review and said, "Benn has never been better at integrating a whodunit plot line with a realistic depiction of life on or near the battlefield."
This program is sponsored by The Friends of the Lyme Public Library and is open to the public.  Copies of Solemn Graves will be available for purchase at the program.
For more information or to register, call the library at 860-434-2272 or email programreg@lymepl.org.