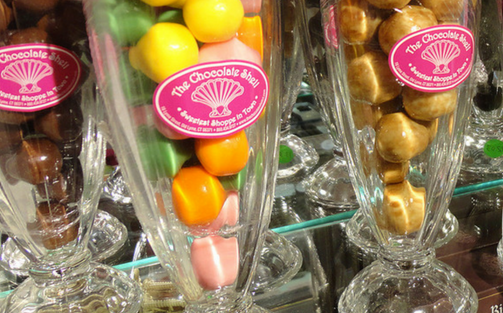 Barbara Crowley, owner of The Chocolate Shell on Lyme Street, has made a big move!
And the move is to … right next door to the previous premises of the store. which has proudly occupied the space in the northern corner of The Village Shops for 38 years.
The new space into which Crowley has moved The Chocolate Shell is larger, brighter and, as she describes it, results in, "no more crawling over each other, customers and employees."
The Grand Re-opening will be held from 2 to 5 p.m. on Labor Day afternoon.  All are welcome to come and see inside the new store.  There will be refreshments and perhaps some singing — Crowley is an accomplished vocalist.
An official ribbon-cutting is planned for 3 p.m. at which Lyme-Old Lyme Chamber, town and regional dignitaries will be present.