Celebrate the Midsummer Festival Saturday morning in historic Old Lyme Village with this family-friendly 5K run or walk, or there's a Kid's K. Registration is open in person until the first run begins at 8 a.m. Saturday.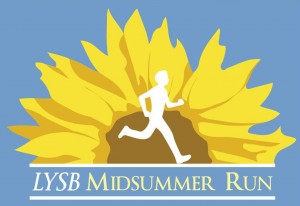 The Midsummer Run benefits the Lymes' Youth Service Bureau providing assistance to local families in Lyme and Old Lyme.  The proceeds from this race will go to LYSB's Timothy P. Buckley Memorial Fund in support of mental wellness and addiction prevention.  #BeRemarkable
The Lyme Youth Services Bureau Midsummer 5K Run features a fast and flat road race, a 5K Run & Walk, and a Kids K. The race will begin at the LYSB located at 59 Lyme Street and wind through the beautiful streets of the village.
The race is being held on the morning of the renowned Old Lyme Midsummer Festival, kicking off a weekend of cultural, artistic and community events at multiple sites throughout Old Lyme's Historic District. The LYSB Midsummer Run is generously sponsored by Simpson Healthcare Executives and numerous other local businesses including Shoreline Web News LLC, owner of LymeLine.com.
Registration and race start times are as follows:
6:45 a.m. Registration Opens
8:00 a.m. 5 K Walk
8:15 a.m.  5K Run
9:00 a.m. Kids K
Registration fees for the 5K (run and walk) are $30 for adults, $15 for youth (18 and under). Registration for the "Kids K" fun run is $10. Chip timing will be provided by Timing Plus New England for 5K participants only. Commemorative T-Shirts will be available for the the first 200 registered participants.
The overall top three men and women will be recognized as well as the top age group winner in the men and women divisions. Divisions will be broken down as follows: Youth 14 and under, 15 to 19, 20 to 29, 30 to 39, 40 to 49, 50 to 59 and 60 plus.
Patrons supporting LYSB with donations of $50 or more will receive a gift and be recognized during the event. Read more about or mission and consider donating at the Charitable Contribution feature on the LYSB website.