The boom of the musket echoes through the ears of the crowds gathered on either side of Cove Street, patiently awaiting the commencement of the annual Fourth of July Parade in Lyme.
These fine soldiers then take up their positions at the front of the parade.
Children sit on the sides of the road with bags in their hands, ready to collect any candy that might be thrown their way. 
The parade begins with the Grand Marshal Rowland J. Ballek, who served as the moderator of Lyme's Annual Town Meeting for 46 years.
People marching in the parade hold balloons and buckets full of candy, ready to toss the sweets to the youngsters who are watching the parade pass.
Children ride scooters with baskets filled with treats, enthusiastically waving American flags and expressing their patriotism with red, white, and blue skirts and streamers.
They came from "Sea to Shining Sea" …
And also participating are this interesting crew …
… two bears and a gorilla wearing sunglasses, who seem to take the whole event in their stride!
Next come the counselors and campers from Camp Claire as they proudly carry their banner and wave to spectators, while cheerfully singing, "It's a Grand Old Flag."
The Lyme Garden Club is here …
And the Lyme Cub Scouts make a very special appearance!
People drive by in the coolest cars in town …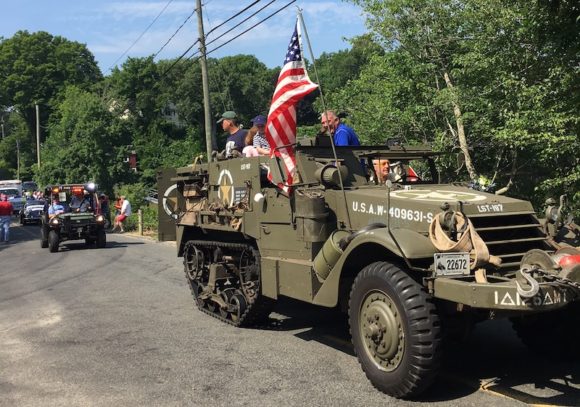 … and the coolest tanks!
And finally the Lyme Ambulance Association closes out the proceedings for another year.
And after all was done, there were smiling faces everywhere, but also some hot and exhausted folks including this four-legged fellow — a King Charles Cavalier Spaniel named Simon and owned by Heather and Tom Richardson.  Perhaps he was waiting for his free ice pop, courtesy of Hamburg Cove Yacht Club?
Here's hoping everyone had a happy Independence Day — see you next year!