Under clear blue skies and a shining sun, the 110 members of the Lyme-Old Lyme High School Class of 2018 were sent off into the world Tuesday evening with pomp, ceremony, hugs, applause, and plenty of good advice to see them through the rest of their lives.
High School Principal James Wygonik focused in his speech on confidence and motivation, giving what he described as, "the top ten keys to building your self-worth."  Numbers two on his list was, "Don't go it alone.  Find someone to share in your success.  Accept the help and insight from those around you.  This is especially true when it comes to your parents." He then quipped, "Other than serving as the ultimate ATM machine, they also have life experience."
Top of his list centered on being a, "Wildcat for life," as Wygonik explained to the students, "You are now a member of a large great family.  The people on this stage, your teachers, your classmates, and this community are all Wildcats."  He told them, "Regardless where your journey takes you, you can count on a one or all of us. We want to celebrate your successes with you.  We also want to pick you up and dust you off after a fall," concluding, "Remember that you will always have a home at 69 Lyme Street."
Commencement Speaker Louis Zubek commented that he had written his speech with his 18-month-old son Jackson very much on his mind because, when he plays with Jackson, he finds himself constantly wondering, "What is he going to be like when he grows up?"  Zubek declared that he always ended up hoping that, "17 years from now, he (Jackson) will display all of the characteristics of the Class of 2018," which included kindheartedness, humor, perseverance, compassion and that, "he's happy and has a smile on his face," and is "eager to take on the world."  Instructing the class of which he has been Class Adviser for four years to, "Laugh, be positive and have fun," he then asked, "If you're not having fun, then what's the point?"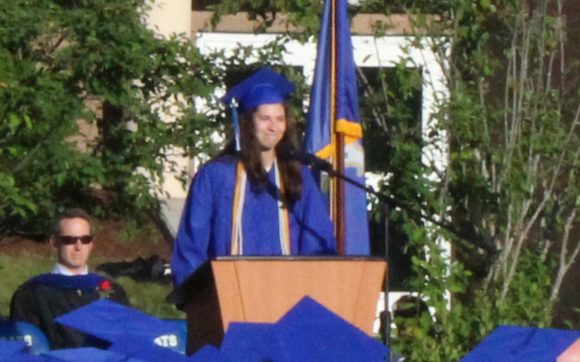 Honor Essayist Hannah Wisner, pictured above, noted, "We have acquired a reputation as a bit of a difficult class," but added that brought with it a desire, "to challenge the status quo." She said emphatically, "In today's world, it's important to be difficult. Being difficult means not settling for less, and not always just accepting what's given to you. It means countering the situations you're presented with. In a world where people struggle to be heard, it means raising your voice and fighting to be heard."
Wisner concluded, "It is for these reasons that I am proud to be part of a difficult class … Class of 2018, we've shown Lyme-Old Lyme High School what a force for change we can be, and now, it's time to show the rest of the world."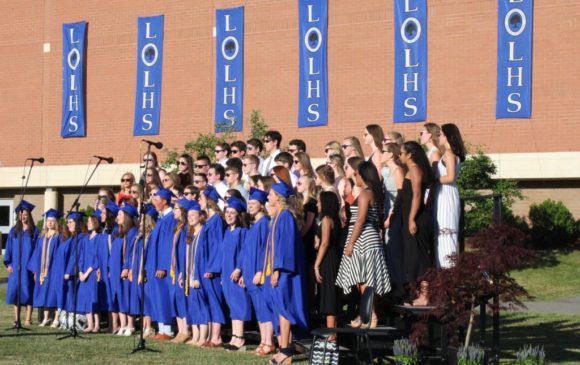 The Lyme-Old Lyme Combined Choirs under the direction of Kristine Pekar sang an upbeat version of "Lean on me," which drew hearty applause.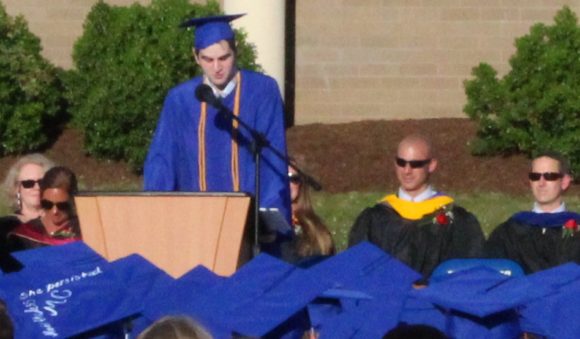 Salutatorian Reed Spitzer reminded his class, "Life is not a straightforward path," asking rhetorically, "Isn't it crazy how you start off thinking you will go in one direction and then you end up going in another?" He advised his peers, "When things do not go your way just remember the saying, 'When one door closes, another one opens.' Find that new door. I know it can be hard, but you must allow yourself to do it because that is how you fulfill your dreams."
Spitzer also spoke of the need to seize opportunities, citing his grandfather and Auntie Mame, who used to say, "Life is a buffet, but most people are starving."  Spitzer admonished his class "not to be like most people," but rather to "stuff yourself silly at the buffet," as his grandfather and Auntie Mame would recommend.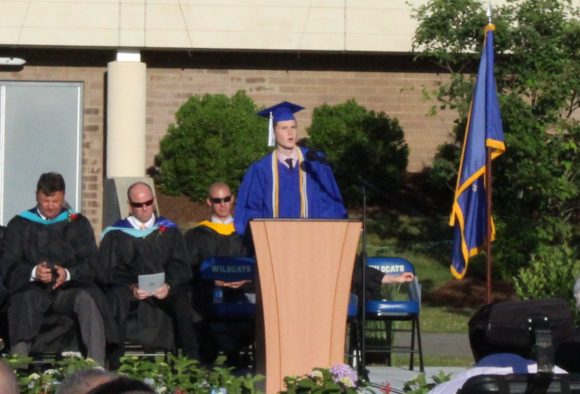 Valedictorian Gabriel Stephens-Zumbaum, pictured above, who will be attending Yale University in the fall, described his class as "a group of changers and leaders, who will stop at nothing to ensure that every school system has a safe learning environment for everyone, even if our political views differ," noting, "This unique sense of community ensures that our school understands the importance of safety and inclusion."
Stephens-Zumbaum spoke of the need for his classmates to "find your passion," which in his case, was music to which he had been guided by the school's band director, Jacob Wilson.  Apart from developing Stephens-Zumbaum's love of music, Wilson had taught him, "to enjoy life, to take every opportunity present to make your dreams turn into reality, and to someday find that dream job which you will enjoy the rest of your life."  The valedictorian urged the Class of 2018 to, "Always be ready for new opportunities. Always be ready to take chances. Always be ready to take a risk in life."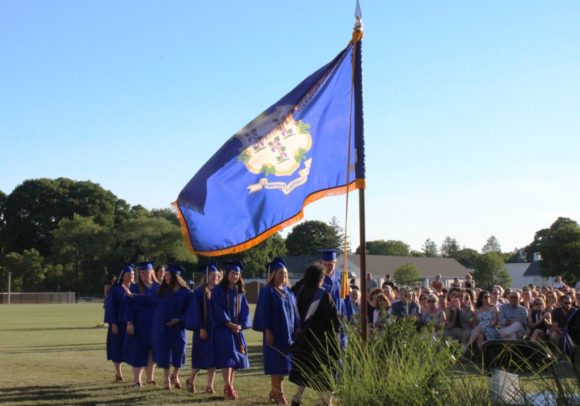 After the speeches, the graduates stood in line to receive their degrees.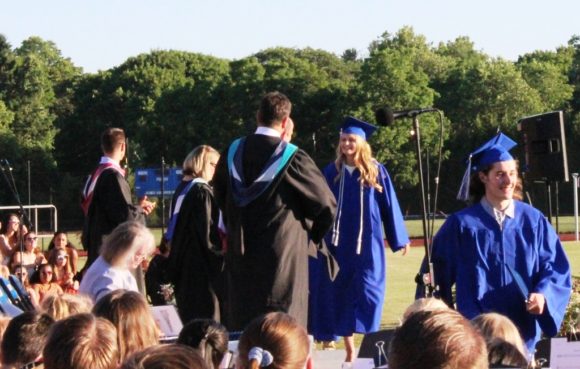 Jordan Lewis smiles broadly as Principal Wygonik prepares to hand her High School Diploma.