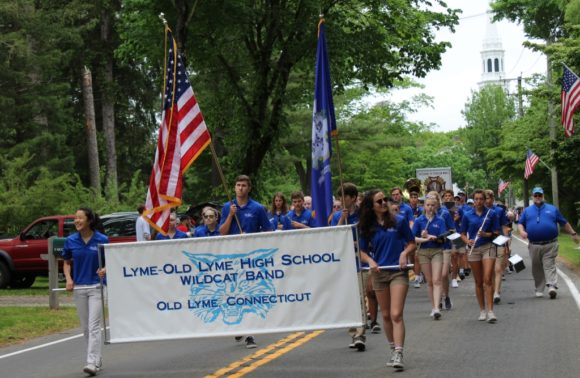 It wasn't the sunniest of days, but at least, for the first time in three years and to the delight of participants and onlookers, Old Lyme was able to hold its traditional Memorial Day parade yesterday.  The inclement weather for the past two years had forced the ceremony indoors.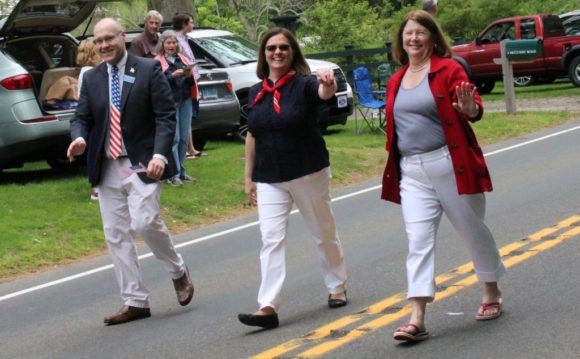 Town and state dignitaries marched cheerfully …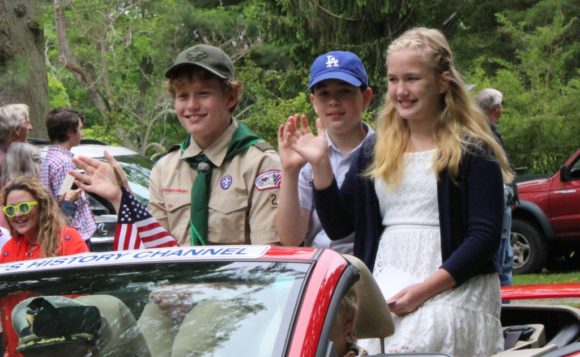 … while the American Legion Post 41 Lyme Essay Contest winners rode in style …
… as did the esteemed members of the Old Lyme Historical Society!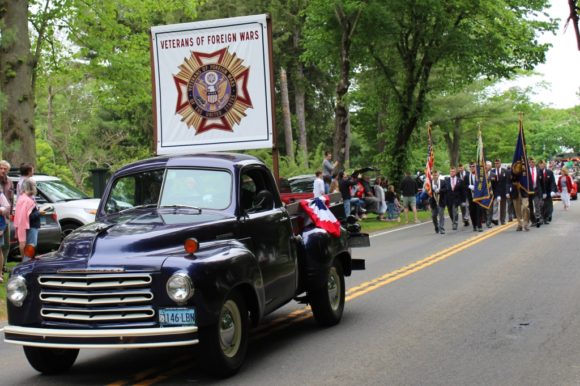 Local veterans of Foreign Wars marched behind their appropriately decorated car …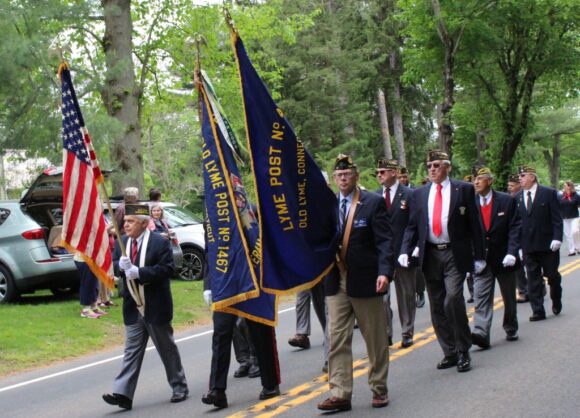 … proudly carrying their flags.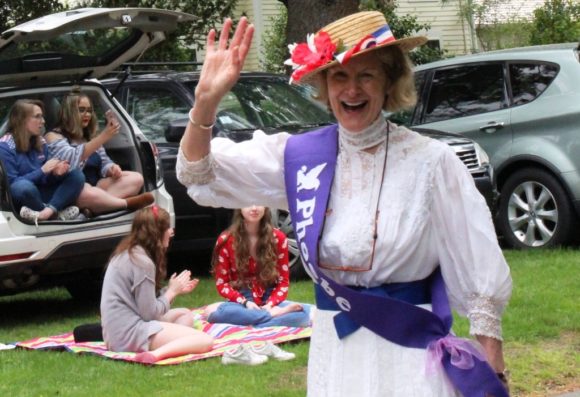 Old Lyme Library's Phoebe Griffin Noyes, aka Mary Dangremond, smiled delightfully and waved at the crowds ..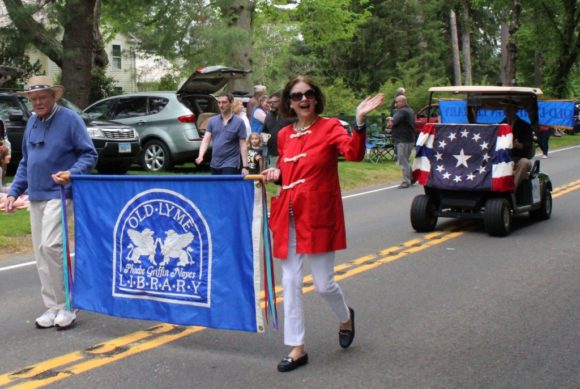 … while library trustees Ned Perkins and Lynn Fairfield-Sonn followed close behind.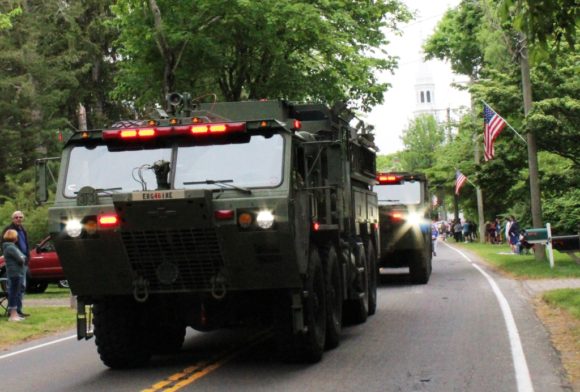 Big tanks lumbered down McCurdy Rd …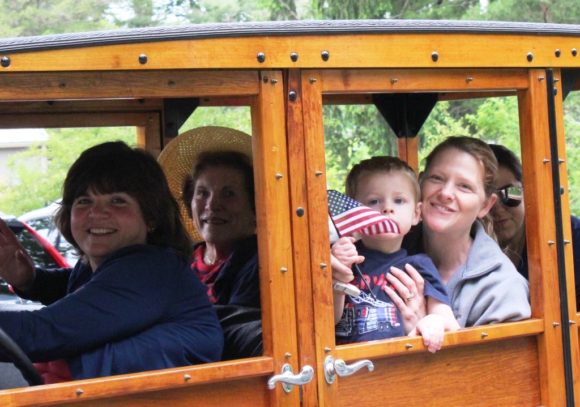 … but this vintage car was simply full of smiles!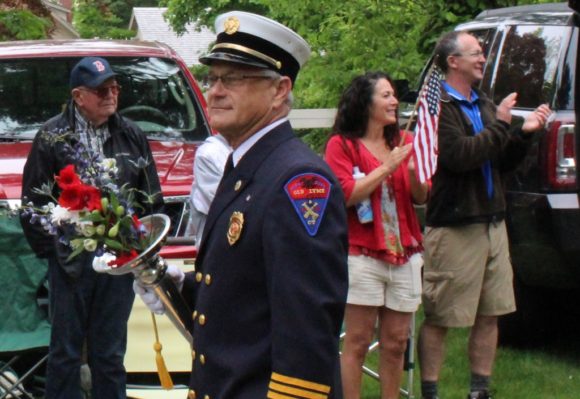 A thoughtful Fire Chief, Tom Risom, took it all in …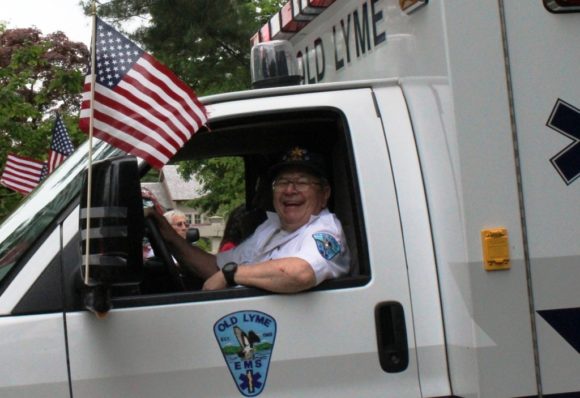 … while this EMT driver was clearly having a wonderful day!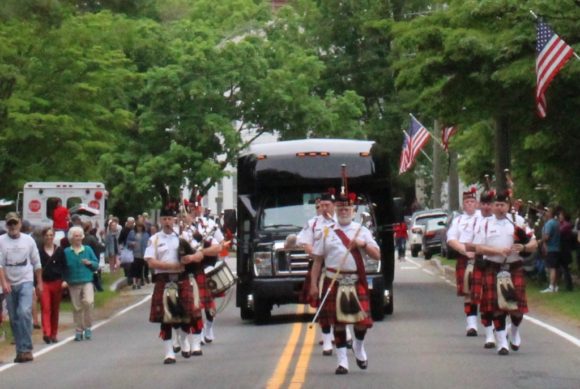 Pipers played …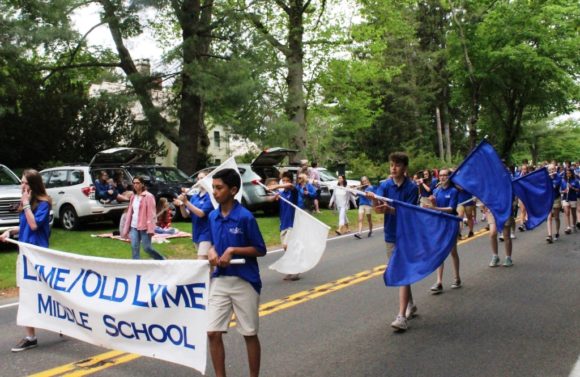 … as did the Lyme-Old Lyme Middle School band.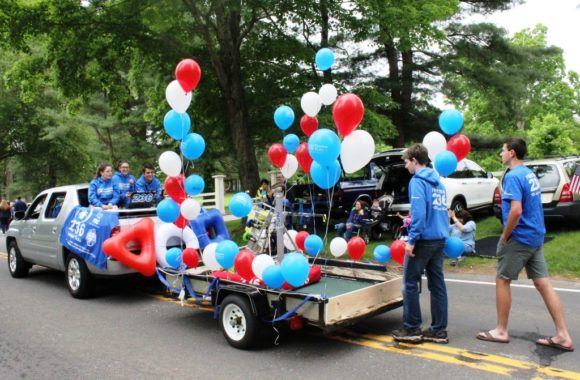 The Techno-Ticks strutted their stuff …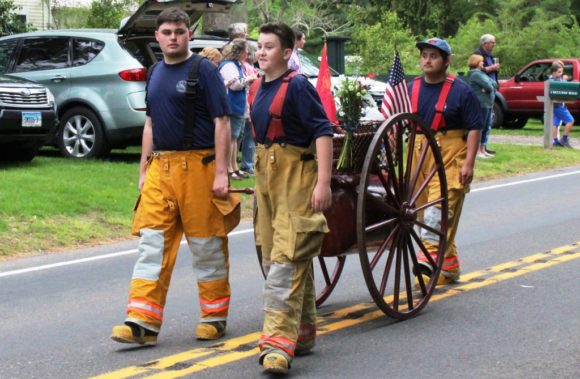 … and in a different way, so did these junior firefighters.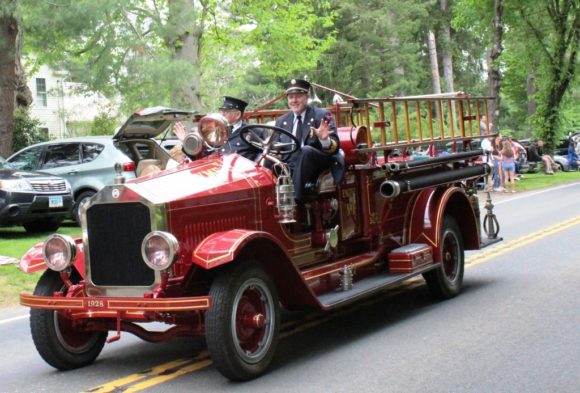 This fine fire engine was a special sight …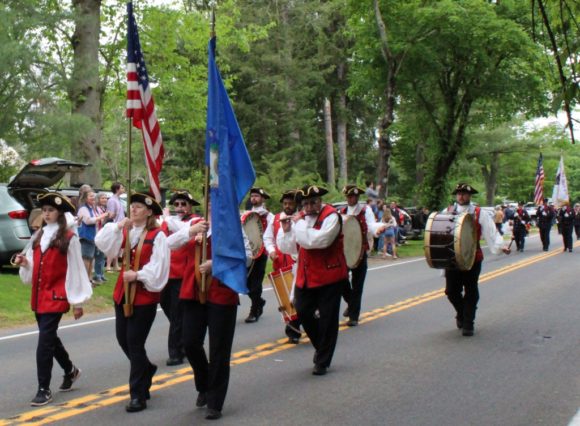 … and the Fife and Drum Corps, as always, were a welcome addition to the parade.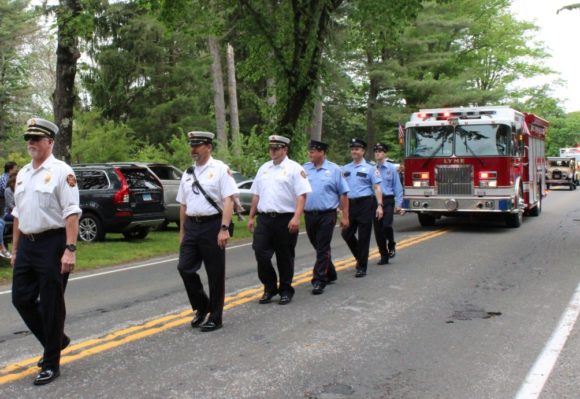 Lyme Fire Department marched in single file …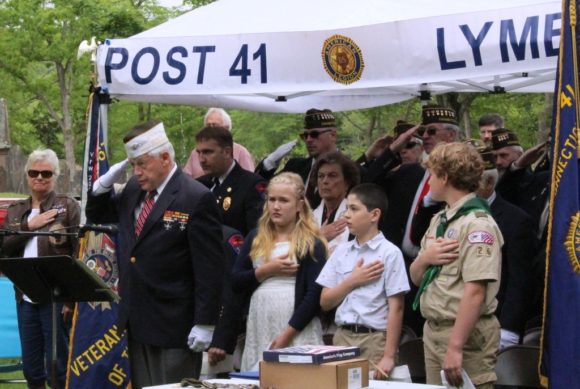 … before everyone gathered at the Duck River Cemetery.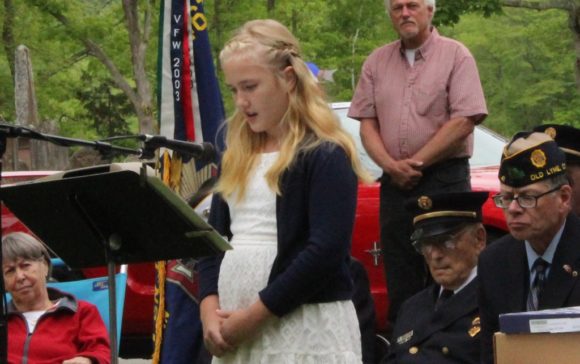 Essays titled,"What Memorial Day Means to Me," were read by the second runner-up, Hannah Johnston from Lyme Consolidated School …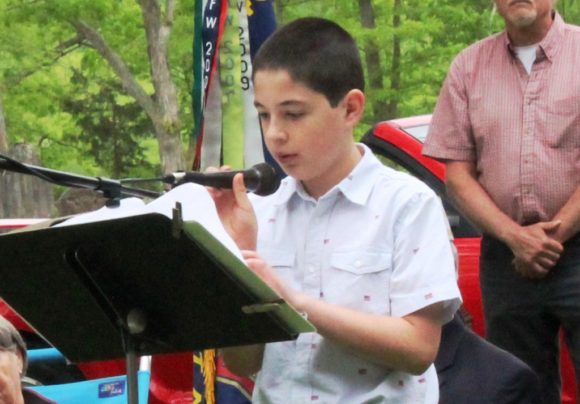 … the first runner-up, Justin Bonatti from Mile Creek School …
… and the winner, Max Novak from Lyme Consolidated School.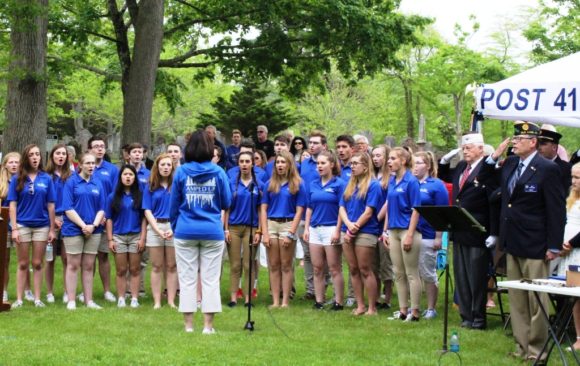 The Lyme-Old Lyme High School Select Singers sang …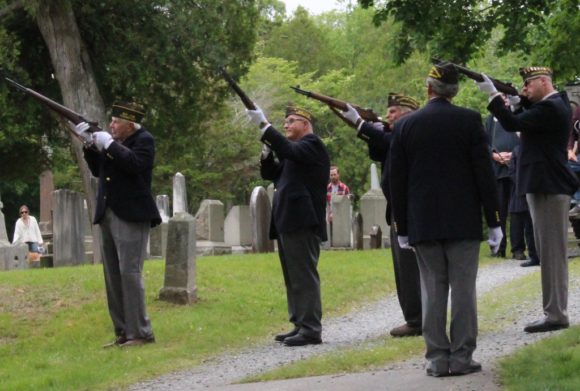 VFW members fired the traditional three-round volley of shots …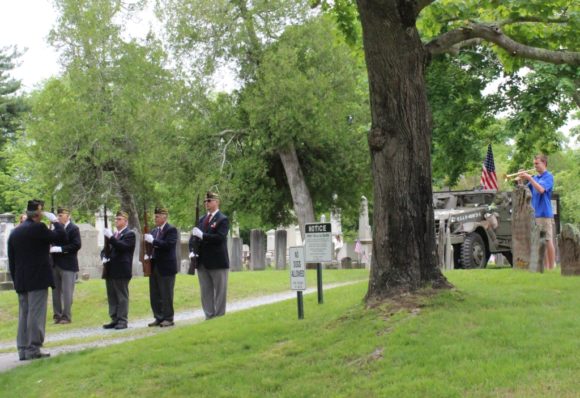 Taps were played …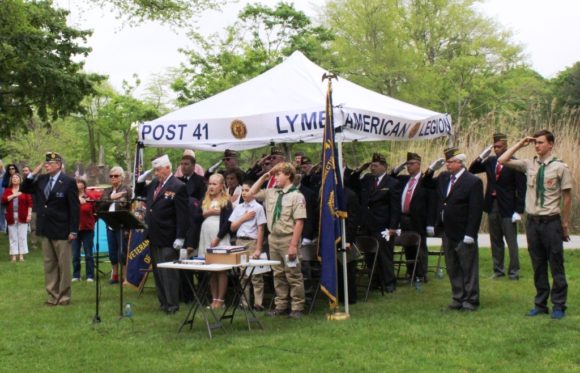 Everyone saluted …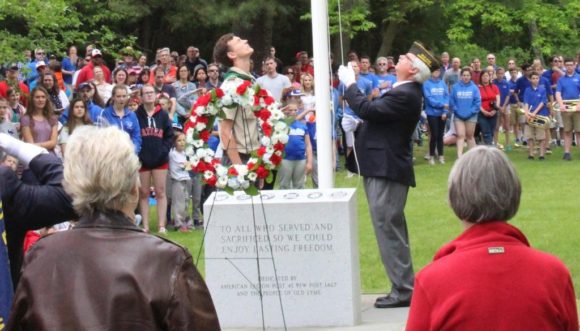 … and the flag was raised, signifying the end of the parade and ceremony … until next year.