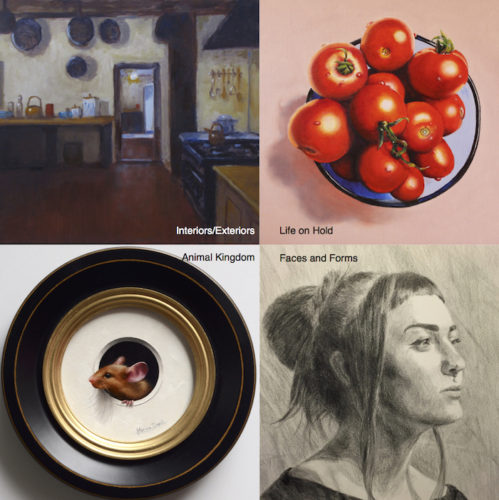 Four new exhibitions, each with a different theme, will be on view in the Lyme Art Association (LAA)'s beautiful historic galleries from March 18. "A Show in Four Acts" features a separate exhibition in each gallery: Interiors/Exteriors, Animal Kingdom, Holding Still, and Faces and Forms run concurrently.  An opening reception for all four exhibitions will be held on Sunday, March 18, from 2 to 4 p.m.
"A visit to the Lyme Art Association to see the A Show in Four Acts feels like visiting four different galleries.  There is a variety and a shift in mood as you move from one gallery to the next," states gallery manager, Jocelyn Zallinger.  "This show also allows a visitor to focus on each genre in a way that is not possible in other exhibitions."
The Lyme Art Association was founded in 1914 by the American Impressionists and continues the tradition of exhibiting and selling representational artwork by its members and invited artists, as well as offering art instruction and lectures to the community. The Association is located at 90 Lyme Street, Old Lyme, CT, in a building designed by Charles Adams Platt and located within an historic district.
Admission is free with contributions appreciated. Gallery hours are Wednesday through Sunday, 12 to 5 p.m. or by appointment.
For more information on exhibitions, purchase of art, art classes, or becoming a member, call 860-434-7802 or visit www.lymeartassociation.org