Community Connections hosts its next meeting today, Wednesday, Jan. 17, starting at noon at the Old Lyme Country Club. The meeting is being co-sponsored by the Lyme-Old Lyme Chamber of Commerce and this is the first time these two organizations have combined to sponsor an event and both are looking forward to the energy and synergy that it is anticipated the event will generate. All are welcome.

Despite the inclement weather forecast, it is anticipated the roads will be clear by travel time to the meeting and so the event is ON!  Walk-in's are welcome.
The event will be a Networking Luncheon and Discussion at which brand journalist and digital media specialist Kayla Hedman of Miranda Creative, Inc. and Memoir Hub, LLC, will be the featured speaker. Her talk titled, "Media Strategies to Boost Marketing in 2018," will cover the top five new media strategies to boost marketing this year.
Hedman will discuss:
how to best utilize new social media features
how to communicate effectively with your audience via email marketing
ways to attract people to your website and encourage them to take action
some of the best places to publish event listings
how to best integrate authentic video and photo into your marketing
Networking discussions during lunch will precede the presentation and roundtable discussions along with a question and answer session will follow.
The luncheon will be held at the Old Lyme Country Club, 40 McCurdy Rd., Old Lyme from 12 to 1:30 p.m. All are welcome but advance registration is required.  Walk-ins will be accepted if space permits.
There is a $25 charge, which includes lunch.  Register online at http://www.LOLCommunityConnections.org.
Register with Tina Birkic by phone at 203-249-4642 or email at tinabirkic@gmail.com or by emailing the Chamber at email@lolcc.com.
Community Connections was founded in September 2014 and is a network for local organizations to explore collaboration opportunities for the enhancement of the Lyme-Old Lyme community.  All area organization leaders and volunteers are welcome to join the group.  Luncheons are held three times per year and attended by up to 80 people representing more than 50 organizations.
For more information, visit LOLCommunityConnections.org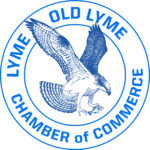 The Lyme-Old Lyme Chamber of Commerce was founded in the early 1930's by representatives of businesses and active volunteers within our towns. The mission of the Chamber is to support and act as a spokesperson for the business community of Lyme and Old Lyme in the optimum manner for the benefit of our members. Membership is open to all, regardless of business size or type. Many members are employed by regional or national corporations while some are small business owners or independent consultants and others are specialized service providers. The Chamber meets every month at either a dinner meeting or in a Business After Hours environment.  A number of Breakfast Meetings are also held during the year.
For more information, visit VisitOldLyme.com or call Chamber President Olwen Logan at 860.460.4176.