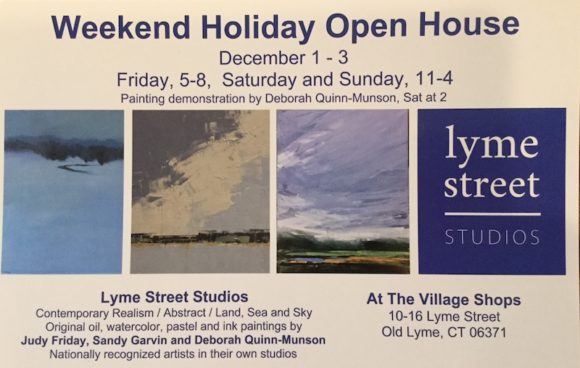 The Lyme Street Studios are holding a Weekend Holiday Open House from Friday, Dec. 1 through Sunday, Dec. 3.
The Studios at the Village Shops, 10-16 Lyme Street, comprise those of Judy Friday, Sandy Garvin and Deborah Quinn-Munson, who are all nationally-recognized artists with their own studios on Lyme Street.  Their art includes work in contemporary realism and abstract styles, along with land, sea and sky, original oil, watercolor, pastel, pen and ink paintings.
The hours of the Open House are:
Friday, Dec. 1: 4 to 8 p.m.
Saturday, Dec. 2 and Sunday, Dec. 3: 11 a.m. to 4 p.m.
There will be a painting demonstration by Deborah Quinn-Muns0n at 2 p.m. on Saturday.