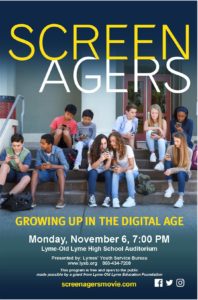 The Lymes' Youth Service Bureau (LYSB) is hosting a free screening of the film Screenagers: Growing Up in the Digital Age on Monday, Nov. 6, at 7 p.m. at Lyme-Old Lyme High School Auditorium.
Screenagers is the first feature documentary to explore the impact of screen technology on kids and to offer parents proven solutions that work.  This is the parenting issue of our time, and LYSB hopes this film will begin to foster community-wide and family conversations.
Teens and kids are spending more time on their phones than ever before.  Kids spend on average 6.5 hours a day on screens and that doesn't include classroom or homework screen time. Boys spend on average the equivalent of 1.5 days on video games every week.  Some recent studies show us that screen time increases dopamine production and causes behavior that mimics addiction.
Physician and filmmaker, Delaney Ruston decided to make Screenagers when she found herself constantly struggling with her two kids about screen time. Ruston felt guilty and confused, not sure what limits were best, especially around mobile phones, social media, gaming, and how to monitor online homework. Hearing repeatedly how other parents were equally overwhelmed, she realized this is one of the biggest, unexplored parenting issues of our time.
Director Ruston turned the camera on her own family and others—revealing stories that depict messy struggles over social media, video games, academics and internet addiction.  In this 60-minute documentary, she probes into teens and their digital lives, exploring her own family as well. The film reveals how tech time impacts the development of kids, and offers solutions on how they can better navigate their cyber world.
Interwoven into compelling stories, are cutting edge science and insights from thought leaders such as Peggy Orenstein, Sherry Turkle, Simon Sinek, as well as leading brain scientists who present evidence on real changes happening in the brain. Screenagers goes far beyond exposing the risks of screen time, but reveals multiple approaches on how parents and educators can work with kids to help them achieve a healthy amount of screen time.
The screening is sponsored by the LYSB, Lyme-Old Lyme Schools, and made possible by a grant from the Lyme-Old Lyme Education Foundation.  The 60-minute documentary and subsequent discussion will explore social media, video gaming, use of screens in academics, and Internet addiction. The film will also explore ways parents can intervene and educate in a way that empowers their teens. The film is not available for streaming, renting, or purchasing, and can only be seen at a community screening.
The screening on Nov. 6 in Old Lyme is free and open to the public, and is suitable for all audiences ages 10 and up.  The film will be shown to all Lyme-Old Lyme Middle School students during the school day.
For more information, contact LYSB at 860-434-7208 or www.lysb.org  or www.screenagersmovie.com