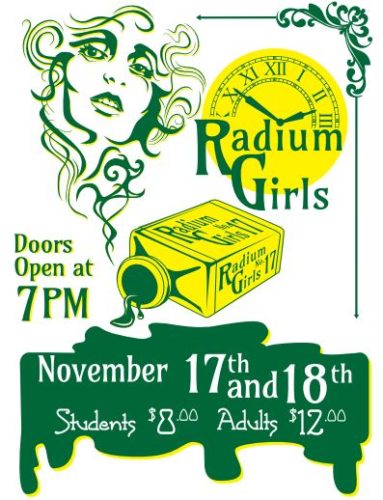 Lyme-Old Lyme High School's Fall Play this year is Radium Girls by DW Gregory, a play based on the true story of women, who were factory workers and contracted radiation poisoning from painting watch dials with self-luminous paint.
In 1926, radium was a miracle cure, Madame Curie an international celebrity, and luminous watches the latest rage—until the girls who painted them began to fall ill with a mysterious disease.
Inspired by a true story, Radium Girls traces the efforts of Grace Fryer, a dial painter, as she fights for her day in court.  As the case goes on, however, Grace finds herself battling not just with the U.S. Radium Corporation, but with her own family and friends, who fear that her campaign for justice will backfire.
Performances will be for two nights only, Friday, Nov. 17, and Saturday, Nov.18.   Showtimes are at 7 p.m. and admission is $8 for students, $12 for adults.
For more information, call 860.434.1651.