The sun shone, the band played, and the muskets boomed as Lyme held its annual Independence Day parade yesterday.
Each segment of the crowd eagerly awaited the parade's arrival …
and then cheered loudly and clapped enthusiastically as the parade approached.
Founded by the late Dr. William Irving as an impromptu event for his immediate family in 1958, this small town parade has now grown into something that draws a large crowd of not only residents but also many visitors from further afield.
Yet it remains a delightfully casual affair that still marches proudly over Hamburg Cove each Independence Day led by soldiers firing their muskets, dressed in costumes from yesteryear.
Also gathered for a photo were the firemen of Lyme.
Back to the parade proper, and George Willauer carried important cargo …
namely, this year's Grand Marshal, who was …
His fans at the Lyme Public Hall were out in force …
Other marchers included members of the Lyme Garden Club …
the Lyme Fire Department …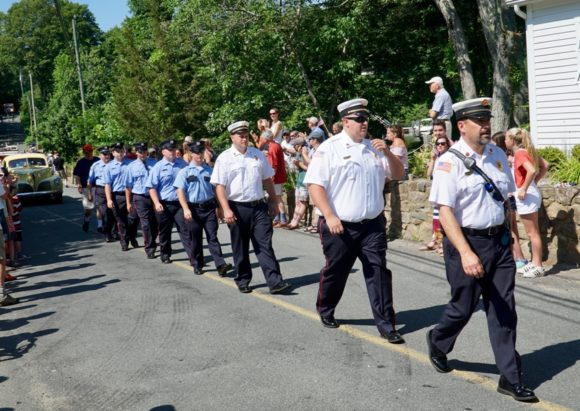 Lady Liberty …
the four-man, hometown band …
George Washington, …
whose passenger was …
As always the military half track driven by Bruce Noyes took its place in the parade.
as did vintage cars galore …
and still more …
Lauren and Brian Girasoli were there, decked in red variations for their first married July 4th parade …
Some sore-footed bears also joined the march in a vintage wheelchair courtesy of the Lyme Ambulance Association.
And one poor pup was so traumatized by the musket fire that he refused to walk when the 15-minute event was over and had to be carried like a tired toddler.
And then it was all over — until next year!