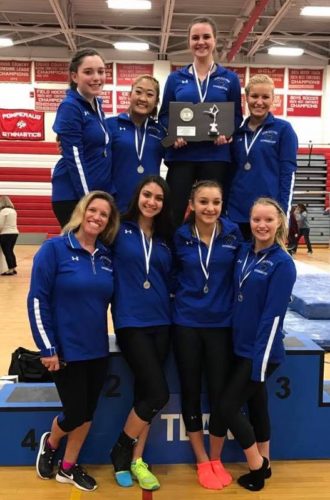 Coach Kim Detuzzi led Lyme-Old Lyme to an amazing second place in the CIAC Class S gymnastics state championship, which was held Saturday at Pomperaug High School in Southbury. This result was the culmination of an extremely successful season during which numerous records were shattered by this talented team.
The contest was won by Woodstock Academy, which triumphed for the fifth time in a row with 151.425 points, while the Wildcats finished with an impressive 132.075 points.
Team members include Mary Bolles, Britney Detuzzi Anna Donato, Caroline Montanaro and Melia Tyrol.
Detuzzi scored 8.925 on both floor exercise and vault, 8.55 on balance beam and 8.2 on uneven bars, achieving the highest score of the team on each event.
The Wildcats, who finished as one of the top four scoring teams in the divisional championships, have now qualified to compete in the open team championship to be held March 4 at New Milford High School.
Congratulations, Wildcats!