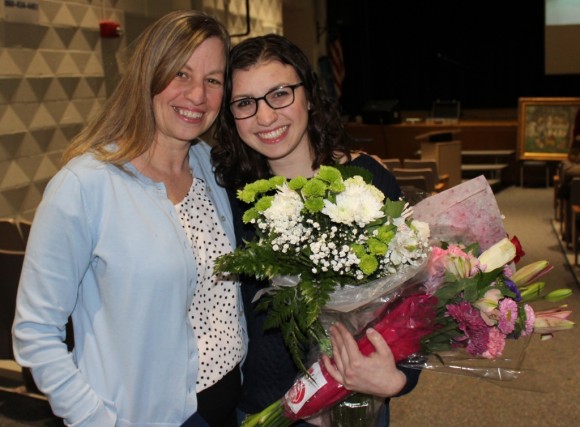 Judging by the number of people who came to the Lyme-Old Lyme Middle School auditorium for last night's announcement of the 2015 Citizen of the Year, Mary Seidner was an overwhelmingly popular choice.
The closely-guarded secret of the board of selectmen's selection for the honor had clearly traveled to a few of the many corners of the community where Seidner makes a noticeable difference. In the audience were folk from Lymes' Youth Service Bureau, of which Seidner is Executive Director, representatives from the Old Lyme-Phoebe Griffin Noyes Library where she is a Friend, and members of the Midsummer Festival Committee, the Old Lyme Police Department (OLPD), and the Child and Family Agency of Southeastern Connecticut, in all of which she plays a significant role.
When Old Lyme First Selectwoman Bonnie Reemsnyder asked Seidner to come down to the front of the auditorium, the large crowd immediately rose to its feet to give her a spontaneous standing ovation.  Reemsnyder then read aloud the Citation announcing the honor to a visibly surprised Seidner, who received the first of many bouquets from her daughter Libby, who had traveled into town unbeknown to her mother for the ceremony.
Reemsnyder opened by saying, "Throughout 25 years as a member of the Old Lyme community, Mary Seidner has demonstrated an impassioned commitment to our children and families."  She continued, " An active Lyme Old Lyme Schools volunteer and Girl Scout leader, Mary was active in the Friends of Music at Lyme-Old Lyme High School, and became a Lymes' Youth Service Bureau Board Member in 2002. A founding member of the Lyme-Old Lyme Early Childhood Council, and the new Community Connections, Mary is also on the MacCurdy Salisbury Educational Foundation Board, a Trustee of Essex Savings Bank, and a member of the Child & Family Agency's Lyme-Old Lyme Auxiliary."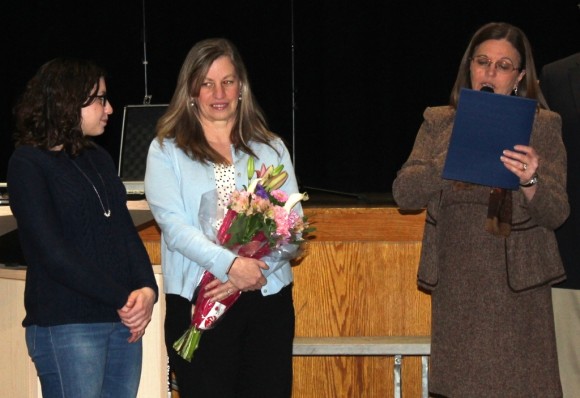 Reemsnyder then stopped for breath and drew a loud chuckle from the audience of around 70 people when she said with a smile, "But that's not all …"   She went on to list numerous other organizations in which Seidner is involved in a variety of capacities such as the Essex Savings Bank, where she is currently a Trustee, the Community Foundation of Southeastern Connecticut, where she was until recently a board member, and the MacCurdy Salisbury Educational Foundation where she serves on the board.
Noting that, "Mary celebrates her 11th year as LYSB Executive Director this year. During her tenure, the LYSB has forged bonds with local businesses and community members." Reemsnyder then went to mention several organizations whose very existence in large part can be attributed to Seidner, for example, the Community Action for Substance Free Youth (CASFY), the Lyme-Old Lyme Early Childhood Council, the new Community Connections, and "Most recently, [she] organized and initiated a Juvenile Review Board."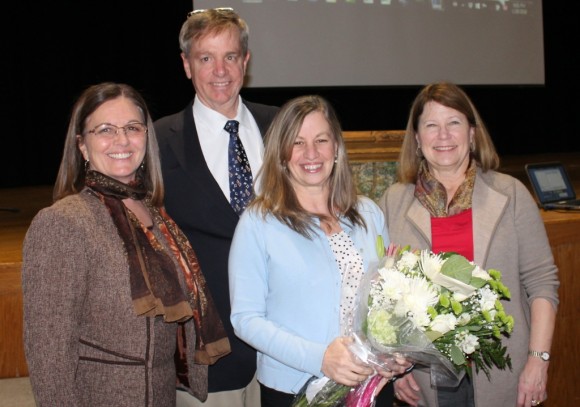 Reemsnyder described how Seidner has also helped to develop especially strong ties with the OLPD, "receiving a Youth/Police Grant for three consecutive years, hosting meetings and sponsoring events that have benefitted young community members."  Reemsnyder also noted that under Seidner's leadership, "LYSB's youth groups … put together 100 backpacks filled with school supplies for survivors of Hurricane Katrina."
In conclusion, the first selectwoman said, "Mary Seidner was honored as 2013 Board Member of the Year by the Connecticut Youth Service Association, and it is now the Board of Selectmen's turn to honor Mary Seidner's commitment to our community by naming her our 2015 Citizen of the Year."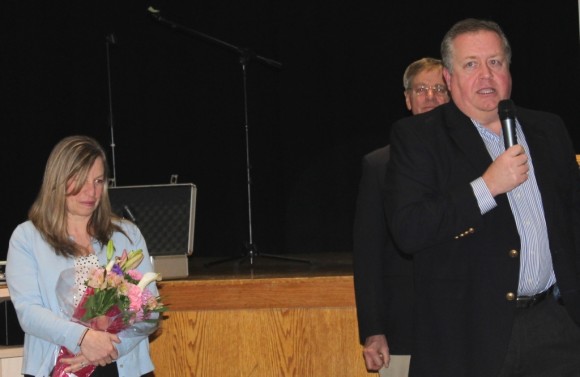 The LYSB Board Chairman Christopher Buckley spoke warmly of Seidner's contribution both to the youth of  Lyme and Old Lyme, as well as the whole community. He remarked that she regularly describes the LYSB building as "the small house that does big things," but Buckley pointed out that Seidner consistently omits to say that she is always there "in the small house" or elsewhere making those 'things' happen.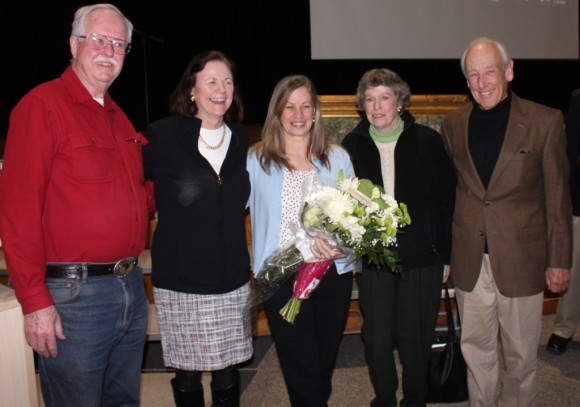 He told a brief story of how he and Seidner had both been kept late one night at a meeting and then had to be back at LYSB at 7:30 a.m.the next morning to meet a contractor.  Seidner seemed somewhat distracted during the morning meeting, which took place outside, and finally confessed that she needed to meet with a teenage youth, who was standing across the road waiting for her.
Buckley said it transpired this was a high school student going through a difficult period, who was at that time living in a shelter. Facing many problems — not least of which that he was cold and had no coat — the student had turned to "the one person he knew would help … Mary Seidner."
Buckley ended there secure in the knowledge that he had demonstrated beyond question why Seidner was the perfect choice for the 2015 Citizen of the Year.
Congratulations, Mary!