Lyme Academy College of Fine Arts hosts nationally acclaimed artist and author Sharon Louden, who will give a talk and a book-signing at the College on Tuesday, Dec. 10.  Louden will discuss her new book, 'Living & Sustaining a Creative Life: 40 Artist Essays,' at 7 p.m. after a reception with wine and hors d'oeuvres at 6 p.m.
Louden's talk will take the form of a conversation when she chats with faculty in front of the audience before a question and answer portion open to all in attendance.  Michael Waugh, a faculty member at the Rhode island School of Design and a contributor to the book, will also be joining Louden.  A book signing by both Louden and Waugh will follow.  Tickets are $10 per person.  All are welcome.
A refreshing and honest look at the reality of sustaining a creative practice over time, Louden's book is already in its second printing – the first sold out almost immediately.  The book is a collection of essays from 40 artists who share their approach to juggling their creative lives with making a living.  All are unique stories with the same common thread of sustaining a creative life in and outside the studio.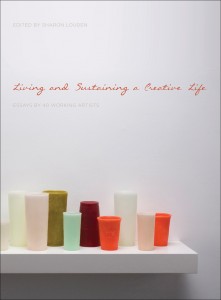 "It's the truth of the day-to-day living that I am after in this book…" says Louden in the preface to her book.  She continues, "The power of creativity does not just lie in an artist's work, but also in how he or she continues to create regardless of the obstacles life places in the way."  Hear Louden share stories of sustaining a creative practice by turning obstacles into opportunities at this event.
Louden received her BFA from the School of the Art Institute of Chicago and an MFA from Yale University, School of Art.  Louden's work has been exhibited in many museums and galleries worldwide and is in numerous permanent collections including the National Gallery of Art, Whitney Museum of American Art and the Museum of Fine Arts, Houston. Louden lives and works in Brooklyn, NY.
Seating for this event is limited and by reservation only.  For reservations, contact Ann de Selding at 860.434.3571 ext. 117 or email her at adeselding@lymeacademy.edu by Dec. 5.
Lyme Academy College is located at 84 Lyme Street, Old Lyme CT 06371.