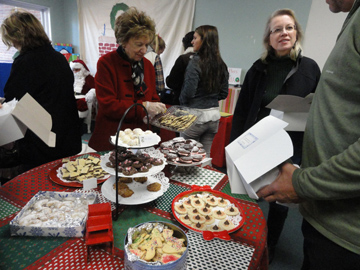 Cookies, cookies, cookies!  Gingerbread men … sugar cutouts … biscotti … pfefferneuse … snowballs: You want to have beautiful homemade cookies to serve your guests this holiday season, but when will you have time to bake?
Purchase your holiday cookies at the Child & Family Agency's Cookie Walk, taking place this year on Saturday, Dec. 7, from 10 a.m. to 12 noon during the holiday festival at the Old Lyme Marketplace.
The Cookie Walk offers a delectable array of beautiful, homemade holiday cookies for purchase.  Visitors browse the display and choose which cookies they want to buy; volunteers then weigh the cookies and package them for purchase.
Also available for sale will be sets of note cards depicting local scenes of Lyme and Old Lyme, and the Agency's popular holiday ornaments.
Proceeds from the Cookie Walk benefit the many programs and capital projects of the Child & Family Agency of Southeastern Connecticut.
Child & Family Agency is a private, nonprofit organization dedicated to the well-being and development of all children and their families, with emphasis on the unmet needs of children lacking physical, emotional, and intellectual care and nurturing.  With offices in New London, Essex, and Groton, and programs dealing with children's health care, child abuse, family violence, teen pregnancy, parent education, and child guidance, Child & Family Agency is the largest nonprofit children's service provider in Southeastern Connecticut.