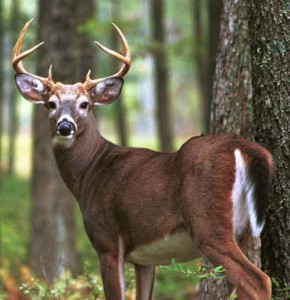 The Nature Conservancy is coordinating deer hunts at its Selden Creek Preserve in Lyme and Burnham Brook Preserve in East Haddam during the firearms deer hunting season.  The goal of the hunts is to reduce the negative impacts of forest overbrowse in these important habitats.
Hunting will begin Wednesday, Nov. 20 and last through Tuesday, Dec. 31;  Burnham Brook Preserve will be closed to public access during that period.
The hunt at Selden Creek Preserve in Lyme will take place during the same timeframe;  however, the preserve will not be closed because the hunting area is safely separated from the part of the preserve with public trails.
Safety for the hunters and neighbors of the preserves is a top priority for the Conservancy.  Signs will be posted at Burnham Brook Preserve informing visitors the preserve is closed during the hunting season, and neighbors have been notified that hunting will take place.  At both preserves, the hunters involved have been hunting together for many years and have hunted on the land before.
The Nature Conservancy maintains that managed hunting is an effective tool that can reduce deer populations and curb the damage they cause, allowing native natural communities, plants and trees to recover their full vigor and diversity.  After several years of hunting, encouraging signs are appearing.
At Burnham Brook, overbrowsing impacts forest regeneration, wildflowers and the shrub layer.  This not only affects the health of the forest but also the animals that depend on it.  Birds that nest and feed on or near the ground have lost the groundcover necessary for protection from predators as well as sources of food.
 The Nature Conservancy is the leading conservation organization working around the world to conserve the lands and waters on which all life depends.  The Conservancy and its more than 1 million members have protected nearly 120 million acres worldwide.
Visit The Nature Conservancy on the Web at www.nature.org/connecticut