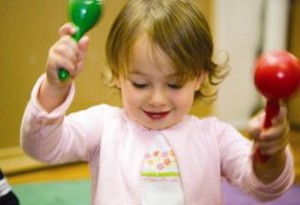 Sweet Beats Family Music classes for children from birth to pre-school and their caregivers will be offered this Friday, Nov. 22 and next Friday, Nov. 29, from 10 to 11 a.m.
The classes will be hosted by MusicNow Foundation, Inc.  in cooperation with master teacher, Eleanor Robinson at Nightingale's Acoustic Café, located at 68 Lyme Street, Old Lyme.
With years of training and experience as a professional  musician and teacher, Robinson shares her  energy, joy and creativity to "wire and inspire the brain through music and movement."
Robinson plays the ukulele, guitar, mandolin, banjo, fiddle and dulcimer and is an accomplished vocalist in madrigal, a capella, folk, and blue grass ensembles.  She also sings in theatre, opera, chorales and church choirs.  Robinson enjoys teaching with a variety of props and percussion instruments in order to enhance young children's interactive musical experience.
Classes are $ 15 per session per child with coffee and pastries to follow.
To register, call 860-434-1961 or email info@musicnowfoundation.org