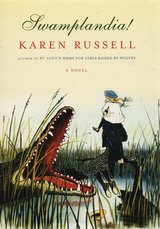 Swamplandia!  The reviews of Karen Russell's last book, "Lucy's Home for Girls Raised by Wolves," are enough to make you pick this new one up and clutch it to your chest as you race from the shop … "Run for your life. The girl is on fire." (Los Angeles Times)
Not even a page in and I was captivated by the ease and grace with which she writes.  A pseudo-real Indian tribe on an island with beer and alligators and ghosts?  Really?  And I didn't bat an eye.  It felt a bit like finding Harper Lee again.  The character of Ava Bigtree is so tangible, so familiar that it grabbed me.
I'll digress a bit for the sake of clarity (hardly my forte as we all know).  The Bigtree family owns Swamplandia!, the alligator theme park where they also live.  Ava, her parents, brother and sister know little else but life with the "Seths" (as they name each and every alligator) on their island on the west coast of Florida.  The world outside is encroaching.  Cancer, theme park competitors, old folks' homes,  love affairs.  They all loom on the horizon. 
There is a slightly off-kilter magical quality to Swamplandia! that makes all of this pain bearable.  It is reminiscent of Victorian goth or a dark fairy tale.  This lift keeps it just above the waterline of despair.  Some parts are hard to read.  Her brother Kiwi and her sister Ossie are teetering on a dangerous edge.  Her father, mother and grandfather have fallen over.  Ava's narrative is just high enough to keep Swamplandia! afloat. 
The beginning seems strangely positive.  Campy, but exhilarating.  When Ava's mother dies, the change is swift.  The darkness starts to flood in.  Ava's father, Chief Bigtree, is gone.  Her siblings are too engrossed in their own struggles to cope.  Ava is left to pick up the pieces of their lives and their livelihood.  She has no support.  She has one to rely upon.  She has an island crawling with Seths.  She is 13.
And yet, she is no dummy. 
You hope right away that she will be fine.  She will fight long and hard to be fine.  Hell, her mother swam through alligator-infested swamps for a living … how weak could Ava be?  There is hope and dark humor and stalwart narrative that keeps you reading. 
And the symbolism of one red seth in the congregation is worth holding onto.
Jennifer Petty Mann grew up in New York City, moved to London, England, then back to Boston, and is now happily ensconced on the EightMile river in Lyme with three little ones.  A former teacher, window dresser for Saks, and designer, she is taking her love of books to the proverbial "street."