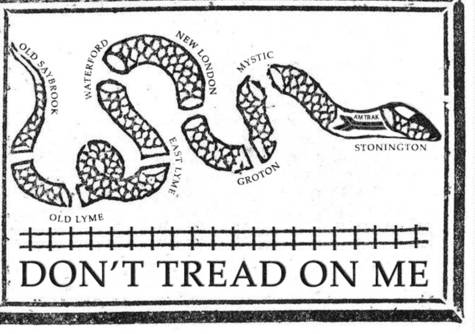 SECoast, the non-profit group formed primarily to fight the proposed high speed train route through southeast Connecticut, is sponsoring, and Old Lyme resident Jennifer Hillhouse is organizing, a petition drive against the proposed by-pass from Old Saybrook to Kenyon, R.I.
The text of the petition is as follows:
We must not squander a once-in-a-generation opportunity to modernize rail travel along the Northeast Corridor, on plans destined either to fail, or to irreparably harm the historic towns, and estuaries of southeastern Connecticut. 
Twice, Senator Richard Blumenthal, a keen supporter of rail travel, called the proposed Kenyon to Saybrook bypass through Old Lyme, "half-baked and harebrained." We agree. 
We urge you to remove this flawed coastal bypass — both as a mapped route and as a concept — from the NEC Future Preferred Alternative, and from any further planning by the Federal Railroad Administration along the Northeast Corridor.
Copies are currently available to sign at the Florence Griswold Museum, Lyme Art Association, Tax Collector's Office at Old Lyme Town Hall, Old Lyme-Phoebe Griffin Noyes Library, and at the Lymes' Senior Center. There will also be an opportunity to sign at the Old Lyme Midsummer Festival next Saturday, July 30, at the Florence Griswold Museum.
It is also possible to sign the petition online at this link.
If there are volunteers interested in organizing petition drives in neighboring towns, SECoast requests that they make contact via the SECoast Facebook page.
We urge our readers to sign the petition.  Thank you!