State Senators and Representatives from 30 Area Towns Invited To Attend Public Forum
Event is Free and Open to the Public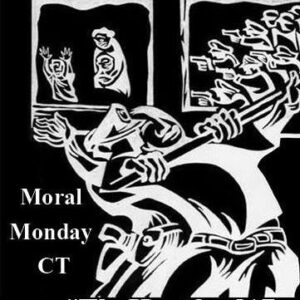 The First Congregational Church of Old Lyme (FCCOL) and the nonprofit organization, Moral Monday CT, are hosting a "Community Conversation on the State Budget" tonight at 7 p.m. to help facilitate a peaceful, respectful, community conversation on the state budget between area elected officials, nonprofit groups and members of the general public. 
The public forum hopes to inspire an insightful discussion surrounding the state's planned cuts to health care, education and social services and their likely impact on marginalized populations.
More than 30 area elected officials have been invited to attend the public forum on the church's front lawn, including the state senators and representatives who represent the citizens of Branford, Cheshire, Chester, Clinton, Deep River, Durham, East Haddam, East Haven, East Lyme, Essex, Guilford, Haddam, Hamden, Killingworth, Lyme, Madison, Meriden, Middlefield, Middletown, Montville, New Haven, New London, North Branford, North Haven, Old Lyme, Old Saybrook, Salem, Wallingford, Waterford and Westbrook.
In the event of bad weather, the forum will take place inside the church's historic Meetinghouse.
Moral Monday CT is a statewide coalition of individuals and organizations – originally brought together through the Black Lives Matter movement – that fights for civil rights and social justice for black and brown people in Connecticut.  The organization was founded by Bishop John Selders, Lady Pamela Selders and Minister Cornell Lewis.