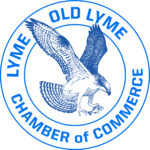 Come network and enjoy refreshments with fellow chamber members and guests from 5:30 to 7 p.m. at Business After Hours on Wednesday at the Florence Griswold Museum. All are welcome to this free event, especially prospective members of the Chamber.
At the event, the Chamber will be launching advertising sales for the Chamber's full-color 2018-19 Member Directory and Visitor's Guide. The Guide will be delivered to every home in Lyme, Old Lyme, and the Flanders section of East Lyme.  Copies will also be available at Chamber businesses, as well as at key community and tourist locations. Come and reserve your advertising space — prices are extremely competitive and premium spots always go fast!
Also, all the candidates running in the November election in both Lyme and Old Lyme have been invited to the event, so this is your chance to "Meet and Greet" them.  There will be no campaign speeches, but the candidates will be mingling with all the attendees so you can chat informally to any or all of them.
A representative from the Florence Griswold Museum will also be saying a few words about the major contribution the Museum has made to the arts locally, regionally and nationally.  Old Lyme is so fortunate to have this treasure in our midst.  It will also be possible to tour the Faerievile, USA exhibit on the grounds of the Museum.
The Chamber expresses its sincere appreciation to the Museum for hosting this event.