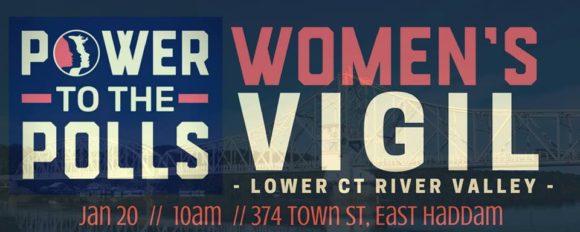 A sister vigil will be held on Saturday, Jan. 20, from 10 to 11 a.m. at Two Wrasslin' Cats (374 Town Street, East Haddam, CT). For those interested in attending, RSVP's are requested at this link.
One year after the historic Women's March on Washington, when millions marched across the world and 500 showed up in East Haddam, this event will be focused on bringing our communities together and moving onto the next stage of the movement. In 2018, the intent is to channel energy and activism into tangible strategies and concrete wins to create transformative social and political change.
There will be a standing vigil (with limited seats available for those who are not able to stand for the duration of an hour) not a march (in order to increase accessibility for people with disabilities and/or small children).
The vigil will be near a sign that says, "Dear Muslims, Immigrants, Women, Disabled, LGBTQ+ folks and People of Color. We love you- boldly & proudly. We will endure. -Shaun King". Attendees are welcome to bring your own signs and banners.
Theresa Govert, founder and chair of Together We Rise CT (TWRCT), will be facilitating and speaking at the event. She is a recently returned United States Peace Corps Volunteer. She served for three years in Botswana, where she worked with her community to organize thousands for a national campaign to end gender-based violence, started a small business as an alternative economic employment opportunity for female sex workers and presented to participants of the White House Mapathon on the importance of free, accessible data.
In 2016, she was selected to receive the prestigious John F. Kennedy Service Award, awarded every five years to six individuals.
In 2017, she was one of six women under the age of 40 who received Connecticut Women's Education and Legal Fund (CWEALF) and Young Women Rising's The Future is Now Award.
All participants should park at the Rotary Skating Pond or the Upper Parking lot of Town Tavern & Restaurant and walk (approx 30 seconds to the site of the vigil). For those with limited mobility, there will be parking reserved in the parking lot of Two Wrasslin' Cats (the site of the vigil). Car-pooling is strongly recommended.
The vigil will be held in the parking lot of the Two Wrasslin' Cats Coffee shop, so people with children, senior citizens, etc will be able to go inside and warm up during the event.
If you have any questions/concerns/suggestions, email togetherwerisect@gmail.com