There are two exciting events being held at the Old Lyme-Phoebe Griffin Noyes Library on Saturday, April 29.  Kicking things off from10 a.m. to 2 p.m. is the Phoebe's BookCellar Half-Price Sale and then at 1 p.m., join a book discussion with a local author.
If you have never been to the BookCellar — or haven't been recently — now is your chance to get some incredible bargains on books, DVDs, CDs and audio books.  The BookCellar is a volunteer-run, used bookstore operating on the lower level of the Old Lyme-Phoebe Griffin Noyes Library.  With over 10,000 books in all genres, including History & Biography, Fiction & Mystery, Children's, Fine Art and Rare & Collectible books.  All proceeds from the BookCellar benefit the Library.
Plan your visit to the BookCellar so that you can enjoy the local author book discussion, which the library is hosting at 1 p.m.  Cynthia Parzych presents a program in which she will discuss her latest book titled, "Connecticut Made", which is a new guidebook extolling the virtues of homegrown products by Connecticut craftsmen, artisans and purveyors.
Connecticut Made is a unique guidebook and local resource full of hundreds of things to find and buy, crafts to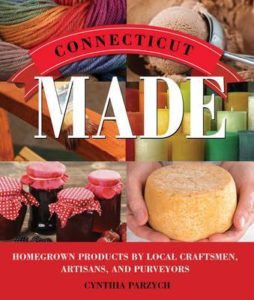 discover, factories to explore, and history to uncover––all made in Connecticut. Organized by product type, categories include ceramics/pottery, clothing/accessories, furnishings/furniture, glassware, home décor, jewelry, specialty foods, toys/games, and so much more. Together, these homegrown establishments help make up the identity of the Nutmeg State and are part of the larger fabric of what is distinctively New England.
Born and educated in Connecticut, Parzych is a writer, book publisher, editor and professional chef. She lives in Glastonbury where she runs her publishing company and a food business. She utilizes the produce grown on her property and sourced locally to make sauces, soups, pesto, pickles, vinegars, jams and marmalades all sold from her house and farm stand.
Autographed copies of Connecticut Made will be available for purchase at a discount following the talk.
About the Old Lyme Phoebe Griffin Noyes Library: The Library is located at 2 Library Lane, off Lyme Street. Spring hours are Monday and Wednesday, 10 AM to 7 PM; Tuesday and Thursday, 10 AM to 6 PM; Friday, 10 AM to 5 PM, and Saturday, 10 AM to 4 PM. For more information, call 860-434-1684 or visit www.oldlyme.lioninc.org. 
Parking at the Library: If the Library's parking lot is full, additional spaces are available on Lyme Street. There is also a parking lot behind the Old Lyme Memorial Town Hall across the street from the Library.