The Lyme-Old Lyme Chamber of Commerce holds its next 'Business After Hours' on Thursday, April 26, from 5:30 to 7 p.m. at Old Lyme Wellness (formerly Healthy Addiction) at 8 Davis Rd., Old Lyme.
Come and network with business colleagues and friends over cocktails and appetizers. Hear the latest news from both the Chamber and our host, Old Lyme Wellness.
At this event, Old Lyme Wellness will present their plans for an expanded Wellness Center and talk about their community-based wellness business.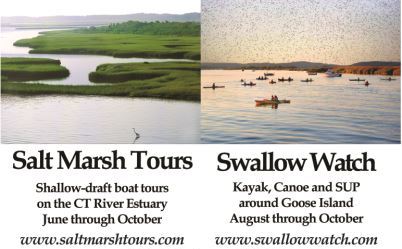 In addition, 
Salt Marsh Tours
 will present their new business operations starting in June for shallow draft boat tours of the Connecticut River Estuary.
Copies of the Chamber's recently published Lyme-Old Lyme Chamber's Member Directory and Visitors Guide will be available at the meeting.  All businesses which advertised in the directory are invited to come and pick up their allocation of copies.
Also, if you're thinking of joining the Chamber, now is the time!  If you're a new member or a previous member that has let membership lapse for more than year, you are invited to join/re-join.  New memberships paid in April 2018 will run through to June 2019!
All are welcome and there is no admission charge, but RSVP's to email@lolcc.com are requested for catering purposes.
For more information, visit the Chamber's website or call 860-237-3707.