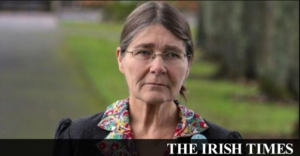 The Southeast Connecticut World Affairs Council (SECWAC) will host Irish author and independent scholar Micheline Sheehy Skeffington, pictured left, at 6 p.m. on Monday, Sept. 11, at Lyme-Old Lyme Middle School Auditorium, located at 53 Lyme St, Old Lyme, CT, 06371. She will deliver remarks based on her social activism and the history of her family's involvement in Irish nationalism.
Sheehy Skeffington's address will be preceded by a reception at 5:15 p.m., and the SECWAC Annual Meeting at 5:45 p.m.
This is part of her tour from Ireland to follow in her grandmother's footsteps across the U.S. during the suffrage movement in 1917 (https://www.indiegogo.com/projects/hanna-and-me-passing-on-the-flame.) She inherited her activism from her illustrious grandparents, Hanna and Francis Sheehy Skeffington, who were renowned early 20th century suffrage activists and Irish nationalists.  A pacifist who tried to stop looting in Dublin during the 1916 Easter Rebellion, Francis was arrested by British soldiers and, without trial or due process of any sort, executed by firing squad along with two other innocent civilians who were journalists. Their murders contributed to the transformation of public opinion after the rebellion was suppressed.
In the face of British objections, Hanna visited the US in 1917, speaking on behalf of the cause of Irish independence at many cities from New York to Butte (Montana) to San Francisco.
She will also discuss 21st century gender equality issues in the workplace in Ireland. In 2014, Sheehy Skeffington, a retired professor of plant ecology, won a gender discrimination case against the National University of Ireland (NUI) Galway, with the Irish Equality Tribunal pointing to multiple failures in the promotion procedure that echo barriers faced by female academics in other Irish and international universities.  She continues to campaign on the issue of gender inequality in academia, having donated her compensation money to help five other female lecturers in challenging their promotion decisions.
The presentation is a part of the SECWAC Speaker Series.  SECWAC meetings are free to members ($75/year; $25/year for young professionals under 35).  Walk-in's are $20 for the general public (non-members; the $20 cost can subsequently be applied towards a SECWAC membership) and free for area college and high school students.
Immediately following the presentation,  SECWAC meeting attendees have the option to attend a dinner at Old Lyme Country Club with the speaker for $35.  Reservations required by Friday, Sept. 8, at 860-912-5718.
SECWAC is a regional, nonprofit, membership organization affiliated with the World Affairs Councils of America (WACA). The organization dates back to 1999, and has continued to arrange eight to 10 Speaker Series meetings annually, between September and June. The meetings range in foreign affairs topics, and are hosted at venues along the I-95 corridor, welcoming members and guests from Stonington to Old Saybrook, and beyond.
SECWAC's mission is "to foster an understanding of issues of foreign policy and international affairs through study, debate, and educational programming." It provides a forum for nonpartisan, non-advocacy dialogue between members and speakers, who can be U.S. policy makers, educators, authors, and other experts on foreign relations. For more information, visit www.secwac.org.